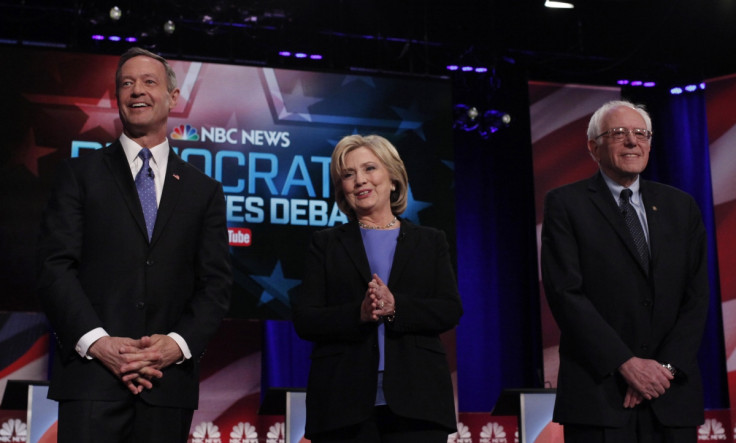 All three Democratic presidential candidates are set to meet on 25 January for the last time before the Iowa caucuses on 1 February. The candidates will participate in a CNN-hosted town hall meeting in Iowa, where they will answer questions from Democratic voters.
Former secretary of state Hillary Clinton, Vermont Senator Bernie Sanders and former Maryland governor Martin O'Malley last met in South Caroline for the fourth Democratic debate on 17 January. They are not set to meet again until the fifth Democratic debate on 11 February following both the Iowa caucuses and the New Hampshire primary on 9 February.
The town hall will be crucial for all three candidates. Recent polls show Sanders leading Clinton by a small margin in the Hawkeye State. However three of the last four polls reveal that his lead over Clinton is quickly dwindling. The town hall will provide him the opportunity to continue convincing Iowa caucus voters that he is the candidate for them.
Meanwhile, Clinton has the opportunity to reverse the trend and attempt to appeal to more voters. Clinton has the added benefit of landing three important endorsements from The Des Moines Register (Iowa), The Boston Globe (Massachusetts) and The Concord Monitor (New Hampshire) in the past few days.
Long-shot candidate Martin O'Malley has the similarly daunting task of convincing the small group of voters who support him to continue doing so. CNN noted that a rule in Iowa Democratic caucuses that candidates with less than 15% support in a precinct are removed from consideration and their supporters allowed to shift their support to other candidates will make it all the more difficult for O'Malley.
When and Where
The fairly unpublicised town hall event will air live starting at 9pm EST/2am GMT from Drake University in Des Moines, Iowa. CNN is hosting the town hall, with anchor Chris Cuomo — brother of New York Governor Andrew Cuomo — moderating the event.
CNN revealed that Sanders will appear first, followed by O'Malley and finally Clinton. Each candidate will receive 30 minutes of stage time and will take questions from audience members and from the moderator.
How to Watch
Like past debates, CNN will provide the town hall on a number of platforms. The event will air live on CNN and streamed online and on mobile devices on the CNNgo app. CNN International and CNN en Español will also air the town hall.
The next Democratic debate will be broadcast on 11 February from the University of Wisconsin-Milwaukee in Wisconsin. The PBS-hosted event will be moderated by Gwen Ifill and Judy Woodruff and will air after the Iowa caucus and New Hampshire primary.
IBTimes UK will be live blogging the debates beginning at 9pm EST/2am GMT.