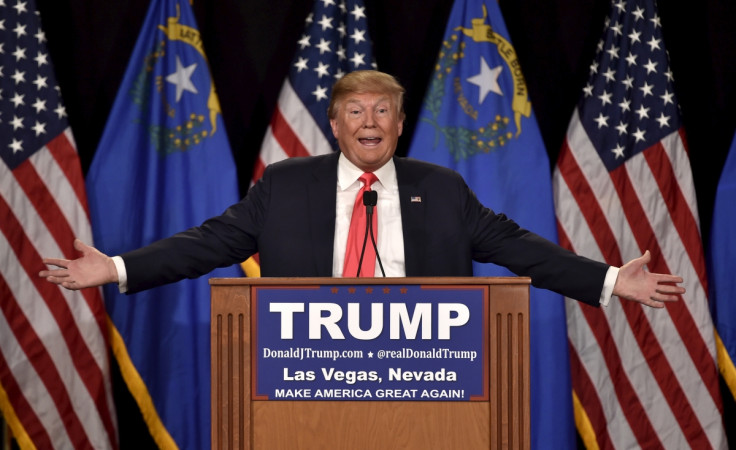 US Republican (GOP) presidential hopeful Donald Trump has said his supporters would follow him even if he shoots someone in the middle of a street. Trump's comments come at a time when gun violence has taken centre-stage in American political discourse.
"The people, my people, are so smart and you know what else they say about my people the polls, they say I have the most loyal people.... I could stand in the middle of Fifth Avenue and shoot somebody and I wouldn't lose any voters," Trump, making a gun pose, said during a campaign rally in Sioux Center, Iowa state, on 23 January, according to ABC News. "It's, like, incredible," Trump said.
Later in Pella town, a slightly toned down Trump said, "I could do almost anything. I don't want to – if I do something bad, say 'Bye-bye Mr. Trump.' Or 'Donald'."
Trump, who believes in fewer gun restrictions, had earlier slammed President Barack Obama for his use of executive orders to expand background checks on people buying guns. Trump made the comments less than two months after 14 people were gunned down by two Islamic State (Isis) supporters in San Bernardino, California.
Trump's top rival for the GOP nomination, Texas Senator Ted Cruz, said: "I will let Donald speak for himself.
"I can say I have no intention of shooting anybody in this campaign," he said.
"There is one thing to have a healthy ego, there is another to give a man who believes those kind of things, who has a habit of anyone who stands in his way of destruction," conservative radio host Glenn Beck, who has endorsed Cruz for the presidential post, said. "To give that man the full power and scope of the office of the presidency is something we will grow to regret".
According to the latest Reuters-Ipsos poll, Trump has 40.6% support of Republican voters nationally. While a CNN/ORC poll shows that Trump is up 37% to Cruz's 26% in Iowa state.