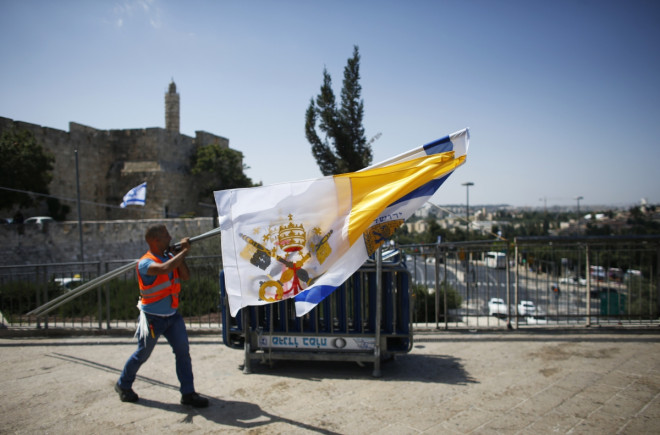 Police arrested 26 people at a demonstration by Jewish nationalists on Saturday after they seized King David's Tomb in Jerusalem.
Some people believe the site was also the location of Jesus' Last Supper.
Over 150 activists, including one soldier, are protesting against Pope Francis' trip to Israel. Jewish protesters have gathered at King David's Tomb several times this month to denounce what they say are Israeli plans to hand over parts of the site to the Vatican.
Israeli authorities deny this. The Foreign Ministry said in response that "there is no intention of handing over or granting any rights to the Last Supper Room to the Vatican – neither during the Pope's visit to Israel nor afterwards. The State of Israel is maintaining its traditional stance that the Last Supper Room and any other part of the compound on Mount Zion will not be handed over to Vatican ownership or possession in any way."
Police spokesman Micky Rosenfeld told Reuters that 150 people took part in Sunday's demonstration and that some protesters threw rocks at police forces, who took 26 people into custody.
According to police, a soldier was arrested for threatening an officer with his weapon to prevent a friend's arrest.
Several officers were wounded and a police cruiser suffered some damage.
Itamar Ben-Gvir, who represented some of the arrested activists, told Ynetnews that "the police behaved with brutality and violence towards the youths who were attempting to protest the evacuation of King David's Tomb for the Pope's visit."
He added that "a local court ruled Friday that protests against the pope were allowed 150 metres away from the site, but it looks like the police are trying to silence the protest."
In preparation for Pope Francis' visit, local police units have been reinforced. Around 8,500 police officers will be posted around Jerusalem.