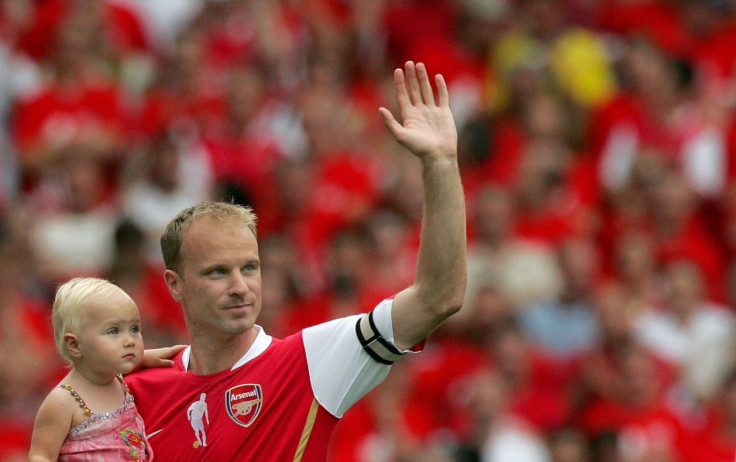 Dennis Bergkamp has revealed that "the Arsenal way" is an integral part of his coaching philosophy where he tries to imbibe whatever he has learnt from his playing days for the betterment of prospective stars grooming under him. The Arsenal legend retired from football in 2006 and was felicitated with a statue outside the Emirates stadium to commemorate his services to the club.
The Dutchman is assistant manager at Ajax and has led the Eredivisie side to four league titles in the last seasons. Bergkamp made 423 appearances for the club and scored 120 goals in all competitions and has been adjudged the second best player to have ever graced the club by Arsenal fans, second only to Thierry Henry.
Bergkamp revealed that he has been coaching for almost a decade but the most important part of that aspect is to be on the pitch with the strikers so as to guide them in the arena rather than have an overview of the game. He added that he has no aspirations of being the head coach but as part of the coaching staff so that he can be with the players and guide them on the field.
"I've been in coaching now about seven or eight years, or nine maybe, but the best thing for me is being on the pitch, especially with the strikers, that's my kind of thing, to teach them the details of football," Bergkamp told Arsenal's official website.
"How to control a ball, how to shoot a ball, how to pass it, how to look for other players. That's my main thing, my ambition is not to be a head coach, to be the top coach, but more our work now in the coaching staff and play my part within the room.
"I'm giving my opinion and tell them how I feel about it, but in the end there is a head coach who decides what's happening and my part is more on the pitch with the players, especially the strikers.
"The first thing when I watch English football is I want to see Arsenal, I want to see how they are doing," he added. "I played 11 years at Arsenal and I tried to give something back to the players that I'm teaching now."