Kings Of Leon are one of the most polarising bands in music. One minute you love them, the next you hate them. But while the love is always a result of a feeling felt when listening to the Grammy Award-winning band's music, the hate is never because of this. Instead, the lack of love for them is often a result of their internal bust ups, most notably the 2011 one where Caleb Followill, the band's lead singer, announced whilst on stage to a Dallas crowd, "I'm gonna go backstage and I'm gonna vomit, I'm gonna drink a beer and I'm gonna come back out and play three more songs." He never returned; the band ended its tour early, which resulted in the cancellation of 26 dates.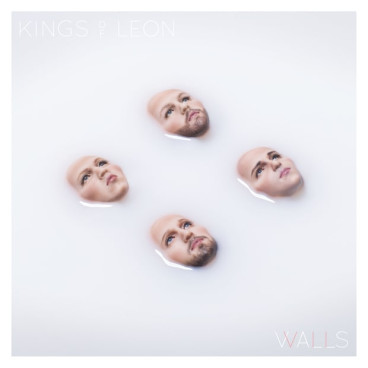 It must be hard for a band of Kings of Leon's stature to keep it together sometimes. Pressure bursts pipes, so you can imagine what it does to a human being. They've gone through a lot together. Originally shunned by their home country, the band were a bigger success in the UK than they were the United States during the early years when they released the albums Youth & Young Manhood, Aha Shake Heartbreak, and Because Of the Times. It wasn't until their mammoth hit Sex On Fire, taken from the even more mammoth Only By the Night album, shook up the world and spurred more sing-alongs than Robbie Williams' Angels — it was at this point that the Americans paid attention to their national treasure. Then came the accolades as did the mounting pressure to deliver an album as big as the one that produced the hits Use Somebody and Sex on Fire.
The band's 2010 follow-up, Come Around Sundown just didn't live up to the expectations set by both fans and critics alike. Achieving gold status in the US (500,000 copies) and going triple platinum in the UK (900,000 copies), in comparison to the sales of Only By the Night (over 2 million in the US and 3 million in the UK) it was a huge let-down. The musical content wasn't right either. Seemingly disjointed and lacking the passion felt on its predecessor, in an interview with Rolling Stone Followill admitted that he "pretty much checked out for that record". Then came the disagreements which in turn led to the band disappearing for a while.
While it wasn't the triumphant return to greatness once displayed on Only By the Night and those that came before it, returning in 2013 with the album Mechanical Bull, was a step in the right direction. The band seemed to be gelling once again. Caleb's lyrical content felt more genuine while the musical direction and the instrumentation felt less forced. The lead single, Supersoaker, sounded like Because Of the Times Kings of Leon. According to Caleb, during the band fallouts and when they were making music for Come Around Sundown they were trying to do something that people would remember. He told Rolling Stone, "Now I'm trying to do something that makes my daughter proud. One day, hopefully I'll still be here, but if I'm not, she'll be like, 'My dad was fuckin' cool.'"
Our verdict
Three years since their last project, the Nashville band return with WALLS. An album that best represents where they are on a personal level, they've gotten rid of the walls that have long surrounded them. The pressures of the outside world have gone. The pressures of having to deliver a certain type of album have gone. Instead they've gone back to the basics. Not complicating matters with a long track list and bonus cuts, WALLS sits at just 10 tracks in length. The shortest track list of their catalogue so far - not including EPs of course - it offers a more concise look at what the band are capable of. Only by the Night was an album compiled of just 11 tracks and you saw how that worked out for them.
While the album lacks that huge smash hit like a Sex on Fire - which is a tough act to follow for anyone - if you're more interested in a complete body of work that effortlessly moves from one track to the other like a good album is supposed to then you won't need that mega record. The album's lead single, Waste A Moment, is actually a really snappy number that incites a table tap-a-thon whenever played. It has the same passionate ferocity of one of the band's early songs, The Bucket, and the same coherent free spirit that Supersoaker has. It doesn't need to be a smash to be good, it just needs to make you feel something.
Playing around with a few different styles, Muchacho sounds like a Lykke Li and Johnny Cash mashup. With a drum loop that is both a distant and close similarity to Li's Little Bit, the overall vibe mirrors that of many of Cash's dark and mellow offerings, especially songs like The Man Comes Around and Ring of Fire. On Eyes on You, it's not so much playing around with different styles than it is borrowing a style, Caleb's vocals sound very reminiscent of an early Brian Fallon. Not only that, the band's playing is also reminiscent of Fallon's most successful band, The Gaslight Anthem. The fast pace, the loud individual strings, and even the way in which Caleb's vocals marry the instrumentation, wouldn't sound out of place on Gaslight's The '59 Sound album. Is this a complaint? Absolutely not. It works well and just shows that influence and inspiration continues to be a force in music.
While songs such as Reverend, Around the World, and Over are typical Kings of Leon songs in the sense that they're charming, sonic-driven and dynamically designed to sound good in a live setting, it's the album's title track that well and truly steals the show.
Do you remember the first time you heard U2's With or Without You? Do you remember that feeling you felt when Bono's vocals touched your soul and the delicate backdrop played ping pong with your heartstrings? Well, WALLS is the 2016 version of that. It might not get the respect it deserves simply because people don't listen to music in the same way they did when With or Without You was released, and it's a shame because it's a superb song. While there's no big crescendo built up after a series of choruses that get louder and louder each time, it doesn't need it. It's a stunning account of a man's struggle with the end of a relationship. The walls are synonymous with the love that has fallen and it's time for the male lead to let his walls fall so that he can move on.
Without doubt one of the most beautiful songs to be released in the last 10 years, it's epic without being loud, brash and explosive. It plays on human emotion with a simple guitar riff to back its relatable lyrical content. It's truly a great way to close an album.
Making a much welcomed return to music, Kings of Leon impress with their seventh studio album. Feeling less stressful than some of their previous work, WALLS feeds on various thoughts, feelings and musical influences. It might not have a mammoth hit on it like Sex on Fire but it does have one of the most beautiful records of the past 10 years on it in the form of its title track.
---
Will Lavin is a hip-hop music and lifestyle Specialist of 10 years. A 2015 IMC Award winner, he's written for publications such as VIBE, XXL, Complex and Blues & Soul. He's worked with artists such as Chaka Khan, Timbaland, will.i.am. and Chris Brown. He also runs illwill.co.uk.
---