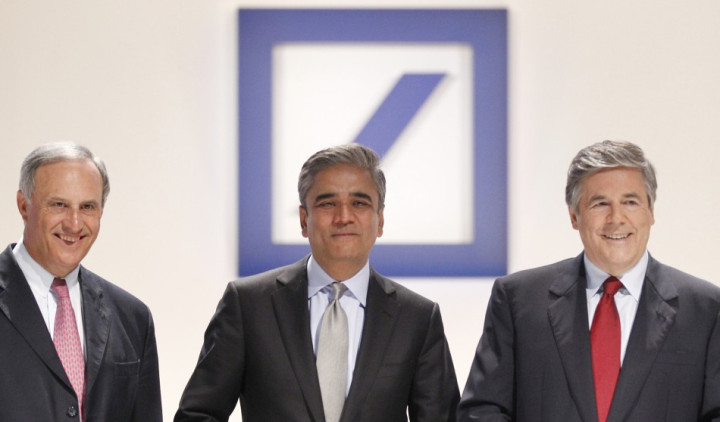 Deutsche Banks will slash nearly 2,000 jobs and trim its bonus pool as part of a strategy review the bank says will save nearly €3bn.
Around 1,900 jobs, mostly outside of its core German operations, will be cut, including around 1,500 in the bank's investment unit, Deutsche Bank said Tuesday in a statement. Further cost reductions will focus on changing the bank's business and revenue models and the integration of Postbank, the former DeutschePost unit, which was purchased by the bank in 2010.
Deutsche Bank added that it aims to meet new global rules on bank capital buffers, known as Basel 3, by the end of the first quarter in 2013, at which time it expects to set aside 10 percent of its so-called Tier 1 capital to cover potential losses and protect savers and shareholders.
The bank also indicated it had received requests for information from various government regulators with respect to the global investigation in alleged inter-bank lending market rigging. Deutsche Bank said legal actions have been filed in the United States and that it's co-operating with regulators.
Shares in the bank rose more than 4 percent to €25.75 after the strategy review was made public after falling marginally earlier in the session after it posted disappointing quarterly earnings.
Germany's largest bank said earnings at its investment banking arm fell by 63 percent as the on-going sovereign debt crisis hit client trading activity and investor confidence.
Pretax profit from investment banking, the largest unit in the group, dropped to €357m in the second quarter this year, from €969m in the year-earlier period the bank said in a statement Tuesday. The slump helped cut overall profit at the Frankfurt based lender by nearly 45 percent as net income for the quarter fell to €661m, compared to €1.2bn in the second quarter 2011.
"In the second quarter, the Bank's performance was impacted by a volatile environment," said co-CEOs Jürgen Fitschen and Anshu Jain. "The European sovereign debt crisis continues to weigh on investor confidence and client activity across the bank. Our core tier 1 ratio was 10.2 percent at the end of the second quarter, well in excess of the 9% threshold set by the European Banking Authority for June 2012." 
Group revenues fell to around €8bn from €8.5bn during the same three-month period last year while sales at the investment banking unit fell 11 percent to €3.5bn.
Global Transaction Banking (GTB), figures, however, surprised with net revenues rising by 10 percent to €972m, compared to the second quarter last year, following strong fee and interest income reflecting growing client volumes and balances in a continuously low interest rate environment.
However, the growth in business activity in this area resulted in insurance related costs, as well as performance-related compensation and integration costs which meant non-interest expenses rose 12 percent compared with the same period last year to €616m in the second quarter 2012.
Deutsche Bank were little changed at €24.6 following the results after falling as much as 2 percent in the opening minutes of trading in Frankfurt. The bank last week told investors in a preliminary statement that it expected a steep decline in quarterly pre-tax profit.
- Lianna Brinded contributed to this story