Devil worshippers blamed for 'Satanic' inverted crucifixes planted on Kent hillside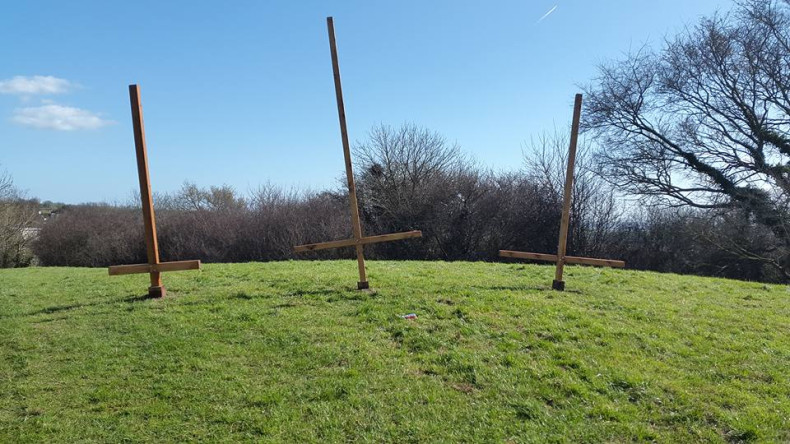 Shocked villagers in Kent fear devil worshippers are responsible for uprooting three wooden crosses used during Easter and sticking them in the ground upside down. The crosses on a hill in Sheerness on the Isle of Sheppey were discovered by a father and daughter following the traditional Good Friday Walk of Witness.
The three crosses are paraded through the local villages in the area before being placed on top of the Bunny Bank hill. Hours after the service, David Stockbridge took his daughter Chloe-Anne to see the crosses, where he discovered all three had been turned upside down.
Stockbridge, from Minister, told Kent Online: "Chloe-Anne had been learning about Easter at school so I thought it would be nice to show her the crosses. When we got there I could not believe they were upside down. Chloe-Anne asked me if they were supposed to be like that. I said I didn't think so and posted a photo on the Sheppey Gossip Board on Facebook to check.
"Once people confirmed they should not be like that, I took them down and turned them up the right way. They weren't very heavy but very awkward to slot back in the bases. If kids did this, it would have taken quite a few. It was really disrespectful and a very bad example."
Retired Church of England parish priest Colin Johnson, 69, said it is "desperately sad" that someone would vandalise the crosses in this way. He added: "It not only offends Christians but also, I would imagine, most right-thinking people of any faiths. It goes against all common decency.
"I would have thought the average yob would have just uprooted them and left them on the ground. But to go to the trouble of putting them back upside down is very strange. It makes me shiver. Using an inverted crucifix is part of Satanic worship. They also recite the Lord's Prayer backwards."
However, some Facebook users have downplayed suggestions devil worshippers may be responsible, believing the act was done by a "bunch of kids" who "think they're funny".
In 2013, one of the crosses placed on Bunny Bank was also the target of vandals after it was knocked over and parts of the wooden structure broken off.