Rutgers University Student Suicide: Dharun Ravi Sentenced
Dharun Ravi sentenced to 30 days of jail.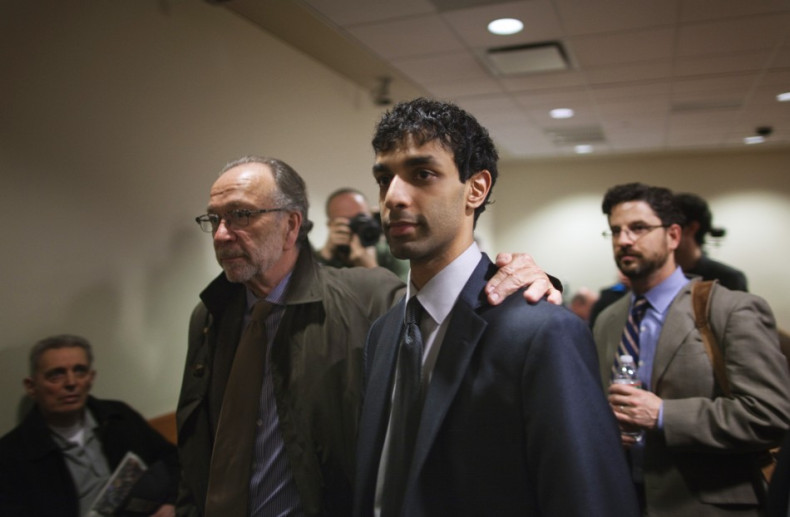 Dharun Ravi, a former Rutgers University student, who spied on his roommate kissing a man, was sentenced to 30 days in jail, three years' probation, 300 hours' community service and a fine of $10,000 (£6,322).
In 2010, Ravi spied on his gay roommate, Tyler Clementi, using a webcam when the latter asked for some privacy with an elderly man. Ravi then spread the video and Clementi's gay encounters through Twitter.
Clementi, apparently, committed suicide by jumping off the Washington Bridge when he learned about the situation. His last Facebook message was: "jumping off the gw bridge, sorry."
The judgment came as a surprise, as Ravi could have faced up to 10 years' imprisonment.
"I have disenchanted both sides. I do not believe he hated Tyler Clementi. He had no reason to. But I do believe that he acted out of colossal insensitivity. I heard this jury say guilty 288 times: 24 questions, 12 jurors, that's the multiplication. And I haven't heard you apologise once," Superior Court Judge Glenn Berman told Ravi, according to The Star Ledger.
Clementi's parents, who were unhappy with the judgment, had earlier said that they were seeking justice for their son. "We are seeking justice and accountability, not revenge," Clementi's father said.
"The devastation of the loss of my son was more than I could bear. I felt like a piece of me died," Clementi's mother said. She accused Ravi of being rude to her son right from the first day. "He never had any intention of befriending Tyler or even of being a considerate and trustworthy roommate. He judged Tyler," she said.
The Ravi-Clementi issue has raised the voices of gay activists, who feel anti-gay bullying, teen suicide and hate crimes are increasing in the internet age.
"Law and order cannot solve social problems. If you put too much pressure on one person, you can crush someone on the receiving end," Bill Dobbs, a New York gay rights activist, told IBN Live.
Ravi's mother claims that her son has already undergone enough torture. "He doesn't have any hatred in his heart toward anybody. Dharun's dreams are shattered and he has been living in hell for the past 20 months," she said.
According to the judgment, Ravi will not be deported to his native India for the time being. He still maintains that he is not anti-gay.