Singapore-based digital assets company Digix has launched its platform to tokenise gold and other physical assets on the Ethereum blockchain.
The Digix Proof of Asset (PoA) ​protocol uses Ethereum and the InterPlanetary Files System (IPFS) to track an asset through its chain of custody. This allows for the open and public verification of an asset's existence without a centralised database. Digix also offers an API allowing other applications to be built on top of its asset tokenisation service.
Digix said in a statement: "For fungibility, users will be able to convert these assets into fungible DGX gold tokens on the Ethereum Blockchain autonomously 1:1. Every DGX token represents 1gram of gold, and can eventually be recasted back into a physical gold bar for redemption.The Digix client itself also has an Ethereum Wallet."
Anthony Eufemio, CTO and co-founder of Digix says, "Physical asset tokenisation is arguably one of the big killer apps for the blockchain. The ability to marry the real world with the digital world on a decentralized peer to peer platform opens up many new opportunities."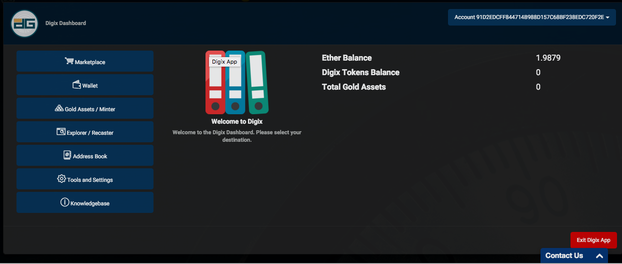 In addition, when EtherEx goes live, it will be fully integrated with Digix. EtherEx removes the need to rely upon any centralised virtual currency exchange for various virtual currencies or crypto assets, making exchanging truly peer-to-peer on Ethereum. Other assets like diamonds will be soon listed on their platform, said Digix.
Ethereum's Vitalik Buterin said: "Giving users easy access to many different kinds of digital assets on the blockchain, and particularly tokens that are linked to assets in the real world, is crucial to seeing blockchain adoption reach the next level, and I applaud Digix Global's initiative in being the first of many such projects to successfully launch."
Kai Cheng, the CEO and co-founder of Digix, said: "We always have an open door and interactive policy at Digix. This platform and product is built as a labour of love for the Crypto community and we will see to it that it remains that way.
"Digix crosses the boundaries of being a wealth management platform and a tech company. We want Ethereum to always have a useful service that is decentralised, community friendly and community inclusive. We never, ever, want to turn into a stoic institution where the CEO cannot find time to reply to their end users.
"With blockchain technology, we want to inspire a community of young entrepreneurs to strike out on their own, build a truly unique Dapp (decentralised application) to disrupt services that used to remain only in the hands of the privileged few. Join us for a casual chat in our slack room and let's change the world together."