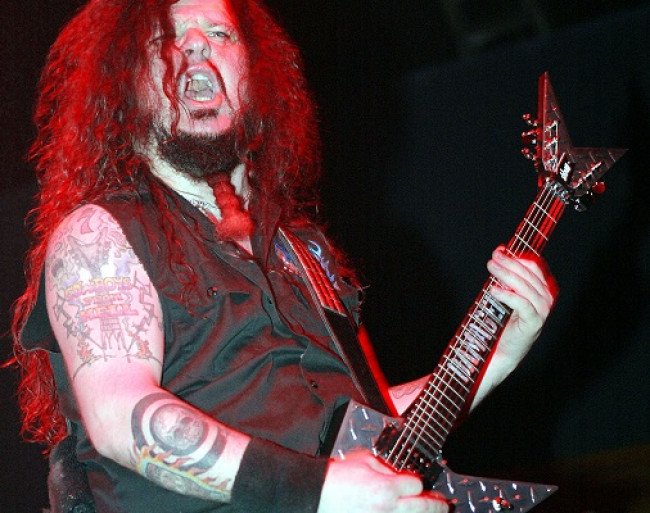 A former singer of a US metal group has apologised for desecrating the grave of Pantera guitarist Dimebag Darrell.
Reece Eber, ex-lead singer of Nuclear Hellfrost, has apologised for the "dumbest possible delinquent act of my life" after he vandalised the grave of the iconic guitarist, real name Darrell Abbott, with a homophobic slur.
Eber said he and his friends have received death threats after he uploaded a photograph of Darrell's grave at Moore Memorial Gardens Cemetery in Arlington, Texas along with a handwritten homophobic insult placed on it.
He also claimed to have spat on the grave and stole some cowboy boots left there by a fan, but later retracted this version of events in his apology.
Pantera posted a photo of the vandalised grave on their official Facebook page, adding they were "absolutely disgusted" by it.
"We ask that all of you please show Dime & his grave the respect he deserves. This conduct will not be tolerated and the authorities have been notified," they added.
Nuclear Hellfrost were quick to distance themselves from Eber after rumours started that he was responsible. The band said in a statement: "We have nothing but the utmost respect for Dimebag and this is a misguided political publicity stunt that we were dragged into by a former member with an awful sense of humour."
In his statement admitting he was responsible, Eber apologised directly to Pantera drummer Vinnie Paul – the guitarist's brother - and the rest of the Abbott family.
He added: "I'm not asking for forgiveness, I'm not asking for sympathy, I am only attempting to express an apology that I want to reach out to the people I hurt and offended with this dumb act. There is no reason for what I did and it was the worst mistake I've made in my young and evidently dumb life.
"I cannot express how sorry I am to Vinnie Paul and the Abbott family for the distress I caused, and the other members of Pantera and other acts Darrell was a part of. I owe everyone an apology for my actions because they were uncalled for, and horrible, despicable, and I went way too far."
Darrell was killed in 2004 after being shot on stage during a performance with Damageplan at the Alrosa Villa in Columbus, Ohio.
He was included in Rolling Stone magazine's list of 100 greatest guitarists of all time and once declared the best heavy metal guitarist of all time by Loud Wire.