Trains services on the DLR have been suspended after a man walked onto a railway bridge in Canary Wharf. He wandered the bridge between Heron Quays and Canary Wharf stations for over an hour before the authorities grabbed him and pulled him to safety.
Roads were cordoned off and crowds of workers gathered as the man clambered up the railings, paced along the railway bridge and at one point took out a book to read.
Hundreds of stranded commuters and school children watched the drama unfold from underneath the bridge.
There were cries of "don't do it" as the red hoodie-wearing men periodically hung over the railings about 100m from the ground.
Police and security staff were reluctant to approach the man because of a backpack he was carrying.
There were five police vans and several ambulances queued-up beside Middle Dock in case the worst happened.
A boat containing emergency workers was on the water a short distance away in constant communication with their colleagues on dry land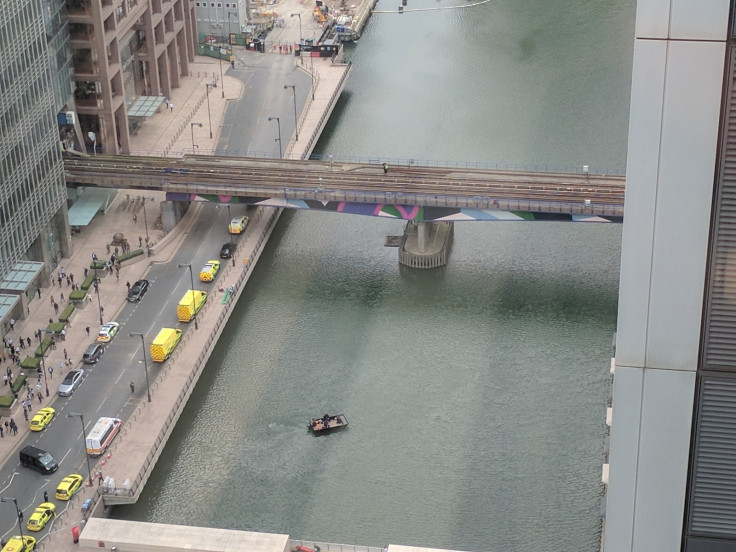 Eventually two officers gently approached the man and tackled him to the ground. Several of their colleagues quickly swooped in.
He was held on the floor for several minutes while bystanders offered a collective round of applause, relieved that the episode had not ended in tragedy.
Barclay's employee Sophie Tucker was on her way home from work when she saw the man. "I'm not really sure what he was doing," she said. "He was running from either side and getting up on the railings. The police were staying back."
Her colleague Harry Drummond said the man had shouted something but he could not make out the words.
Several bars and restaurants along Middle Dock were evacuated, including All Bar One. The area is a popular spot for workers on the Wharf unwinding after the working day.
A British Transport Police spokesman said: "We were called at 3.26pm after there was concern for the welfare of a man between Heron Quays and Canary Wharf stations. Officers on sight are now talking to the man."
Transport for London said they hope to reopen the service this evening.