President Obama stepped up to the podium at the 2016 Democratic National Convention on Wednesday (27 July, where he highlighted a list of his accomplishments, endorsed Hillary Clinton to become the next president and warned that the current election is like none the US has ever experienced before.
He spoke of the "audacity of hope," and said that he is "more optimistic about the future of America than ever before," pointing to affordable health care, a bounce back from a major recession and the nation's realisation that "love has no limits" with marriage equality now the law of the land.
Obama acknowledged that much more still needs to be done, because "we're not done perfecting our union, or living up to our founding creed — that all of us are created equal and free in the eyes of God."
But he also warned of the dangers facing the US with the stark choice in this presidential election.
"It's fair to say this is not your typical election," he noted to the crowd. "It's not just a choice between parties or policies, the usual debates between left and right. This is a more fundamental choice — about who we are as a people, and whether we stay true to this great American experiment in self-government."
Obama noted that "there's nothing wrong with differences" between the Democrats and Republicans, although - referring to the Republican National Convention - he added: "...what we heard last week wasn't particularly Republican — and certainly wasn't conservative."
Views expressed represented a "deeply pessimistic vision of a country where we turn against each other, and turn away from the rest of the world. There were no serious solutions to pressing problems – just the fanning of resentment, and blame, and anger — and hate. And that is not the America I know," said Obama.
"The America I know is full of courage, and optimism, and ingenuity. The America I know is decent and generous" — despite "real anxieties."
Most of all, he added, "I see Americans of every party, every background, every faith who believe that we are stronger together — black, white, Latino, Asian, Native American, young and old, gay, straight, men, women, folks with disabilities — all pledging allegiance under the same proud flag to this big, bold country that we love. That's the America I know."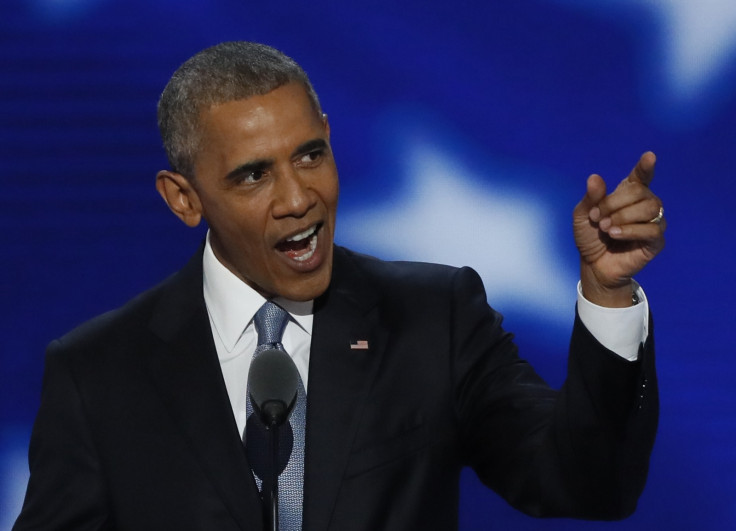 He lashed out at Donald Trump's boasts about his business acumen, noting that many people in business don't leave behind a "trail of lawsuits, unpaid workers and people feeling like they got cheated."
He criticised Trump for "cosying up" to Russian President Vladimir Putin and praising Saddam Hussein, and his portrayal of himself as America's saviour. Obama insisted that Americans can take care of themselves.
Trump is "just offering slogans, and he's offering fear. He's betting that if he scares enough people, he might score just enough votes to win this election," said Obama.
"We are not a fragile or frightful people. Our power doesn't come from some self-declared savior. We don't look to be ruled. Our power comes from those immortal declarations first put to paper right here in Philadelphia: 'We hold these truths to be self-evident, that all men are created equal; that together, we, the people, can form a more perfect union.'"
"[America] has never been about what one person says he'll do for us. It's always been about what can be achieved by us, together," he said.
The nation's "bonds of affection," its "common creed" will always defeat "fascists or communists or jihadists — or homegrown demagogues," he noted.
Obama said he was ready to "pass on the baton" to Hillary Clinton, who is "fit and ready to be the next commander in chief."
He concluded: "Thank you for this incredible journey. Let's keep it going."