Move over Downton Abbey; there's another opulent period drama filled with sumptuous scenery, varying degrees of voluminous petticoats and gossiping high-class characters with ultimate first-world problems set to grace our TV screens from Sunday evening (6 March).
Based on the novel by esteemed Victorian author Anthony Trollope, the three-part Doctor Thorne's similarities to Downton are uncanny. Asides from its similar setting, tranquil gardens and plush interiors, they both share the same creator in Julian Fellowes. A long-time fan of Trollope, Academy Award-winning Fellowes says he is on a mission to "remind people that we don't have to have the 100th version of Pride And Prejudice".
So as we prepare for a cosy night in front of ITV this Sunday, IBTimesUK rounds up all you need to know about the hottest new period drama on the block.
Who are the cast?
Prince Harry's ex-girlfriend, Cressida Bonas, is making her TV debut, playing Patience Oriel, a "very pretty" potential love interest for a main character who is dismissed because her fortune is not big enough.
Tom Hollander (Mission: Impossible, The Riot Club, A Poet in New York) will star as the main character, Dr Thomas Thorne; a remarkably noble man that happens to know everyone's business, whilst newbie Harry Richardson will play Frank Gresham, a dashingly handsome young man who is desperate for a family but must marry into money. Something tells us he won't have any issues.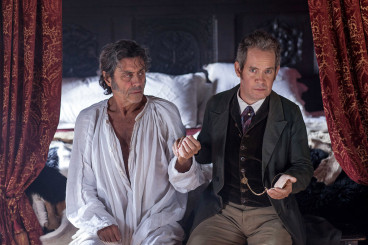 Rebecca Front (The Brothers Grimsby, War & Peace) will play Frank's mother, the avaricious Lady Arabella Gresham, who is determined that he must not follow his heart. And as always, there's a graceful beauty in the form of intelligent but illegitimate (it was a big deal back then) Mary Thorne, played by newcomer Stefanie Martini – who also happens to be the niece of Doctor Thorne. Interesting.
The cast also includes Alison Brie, who starred in the acclaimed US series Mad Men as Trudy Campbell, Richard McCabe (Indian Summers, The Great Fire, Peaky Blinders), Phoebe Nicholls (Jonathan Strange & Mr Norrell, Fortitude, Downton Abbey), Gwyneth Keyworth (Game of Thrones, Misfits), Kate O'Flynn (No Offence, Ordinary Lies) and Edward Franklin (The Brain Hack, Doctors).
What's it about?
Dr Thorne (Hollander) resides in the village of Greshamsbury in Barsetshire with his young niece, Mary (Martini), a girl blessed with every gift except wealth.
Mary Thorne has grown up alongside the Gresham family, whose home, Greshamsbury Park, and status dominate the country. But things aren't really that simple, however, as Francis Gresham Senior (McCabe) has burnt up the family's fortune and his wife, Lady Arabella Gresham (Front) and their daughters Augusta (Keyworth), Beatrice (Nell Barlow) and handsome Frank face losing their home. Quite the pickle.
Things naturally take a turn for the worse when the seemingly uptight Lady Arabella discovers that her beloved son, Frank, has fallen in love with Dr Thorne's penniless niece. As you might have guessed, she's not a happy bunny; especially since her husband Gresham is only being kept afloat by very favourable loans that Dr Thorne secured from railway millionaire, Sir Roger Scatcherd (Ray Donovan). But since Sir Roger is drinking himself to death, the family's financial future isn't looking too promising.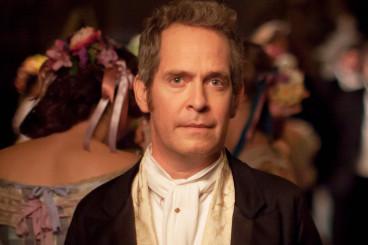 We can't blame Lady Arabella for wanting her darling boy to marry a rich girl in order to save the family estate, but we can most definitely wiggle a finger at her for launching a campaign to secure her son an heiress for a bride. A tad too far, some might say.
Aided by her conniving niece Alexandrina De Courcy (O'Flynn), the manipulative alliance set their sights on wealthy American heiress Miss Martha Dunstable (Brie) as Frank's future wife.
Who is behind it?
The director is Niall McCormick who is best known for The Long Walk To Finchley, Complicit and The Game, and the producer is Helen Gregory (Case of Histories, Cider With Rosie).
When can we tune in?
The three-part drama has been produced by Hat Trick Productions and filming began in September 2015. It will hit the small screen this Sunday evening (6 March) at 9pm on ITV.
What's the reception been like?
British producer and director Mark Redhead said of the series: "With his characteristic genius, Julian Fellowes has brought to life a wonderful gallery of engaging, lovable, charming and monstrous characters in a script that is brilliantly funny and deeply touching."
Producer Steve November commented: "We are delighted with the incredible cast we have assembled for Doctor Thorne and are excited to see them bring this rich, multilayered story of class, love and social standing to life."
That's Mother's Day evening sorted then!