Golf-mad Donald Trump "cheats like hell" at his favourite pastime, according to a pro player who has since retracted the reports as "fake news".
LPGA star Suzann Pettersen, who has on several occasions been ranked second in the world, reportedly told Norwegian newspaper Verdens Gang that although she likes the US president as a person, she is sceptical of his underhand golf antics.
She said: "He cheats like hell ... so I don't quite know how he is in business. They say that if you cheat at golf, you cheat at business. I'm pretty sure he pays his caddie well, since no matter how far into the woods he hits the ball, it's in the middle of the fairway when we get there."
Pettersen and Trump have played several rounds of golf together, and they spoke on the phone at least once a month before he became president. They have even met up twice since Trump was inaugurated. Pettersen described their relationship as "very personal" and said she enjoyed playing the sport with him, despite some of the questionable tactics.
Pettersen was also reported as saying Trump was known for skipping short-distance putts under the assumption he would have made them, a custom known colloquially as "gimmes". Pettersen said: "Yes, yes, that happens all the time. He always says he is the world's best putter. But in all the times I've played him, he's never come close to breaking 80.
"But what's strange is that every time I talk to him he says he just golfed a 69, or that he set a new course record or won a club championship some place. I just laugh. I'm someone who likes being teased and I like teasing others, and Trump takes it well, and that must be why he likes me."
However, Pettersen has since denied calling Trump a cheat, writing on Twitter: "Sometimes you do interviews and media will twist whatever word/ saying to make a headline! It's shocking to see... this is what I would call #fakenews Why would I call someone a cheat.... never!"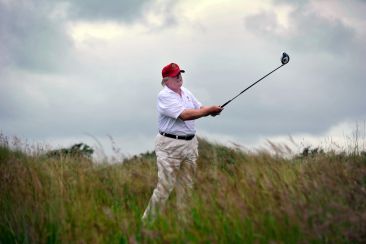 Although she said she is not a supporter of Trump's policies, Pettersen also explained why they were friends: "I've got to know Trump so well that I don't take everything he says literally. Yeah, you'll never meet another person who loves himself as much as he does, but I have also met him on another level altogether, before he was president. I know how much he cares.
"He called me once a month and asked how things were going. It was always about golf. He is totally golf-crazed. Golf is the only thing the man thinks about."