"How is it only the 5th of September. I can't take 25 more days of this," wrote an overwhelmed NHS midwife on Twitter. "If you know or love a midwife, PLEASE STOP SHAGGING AT CHRISTMAS." The midwife, called Mhairi, is clearly already fed up with the amount of work she's dealing with in September.
In follow-ups to her original tweet - which has now gone viral - Mhairi claimed she had to perform seven deliveries in a row. And it made many people wonder: Is September the busiest month of the year for midwives?
Well, actually... it's complicated! It was the case in 2014 when a total of 61,197 newborns were delivered in September alone in England and Wales, according to data from the Office of National Statistics (ONS). On 26 September 2014, 2,000 newborns were delivered, making it the peak day of the year. That amounts to 1.4 babies delivered every minute, and 83 babies an hour.
However, things changed in 2015, when the busiest month for births was actually July. In that month, 61,425 little ones were delivered. In 2013, July was also the busiest month of the year birth-wise, with 61,422. But in 2012, October was by far the most hellish for midwives, with the number of births reaching 63,387.
So although Mhairi's tweet is hilarious, it is statistically incorrect. Looking at birth numbers issued by the ONS since 2000, September was the busiest month for births only twice: 2014 and 2006. Historically, July is officially the busiest month for midwives. In the last 17 years, it was the most hectic month birth-wise a staggering eight times.
What is true is that September is within the peak period for the birth of newborns: July to October. It confirms the belief that people have more sex in winter than summer.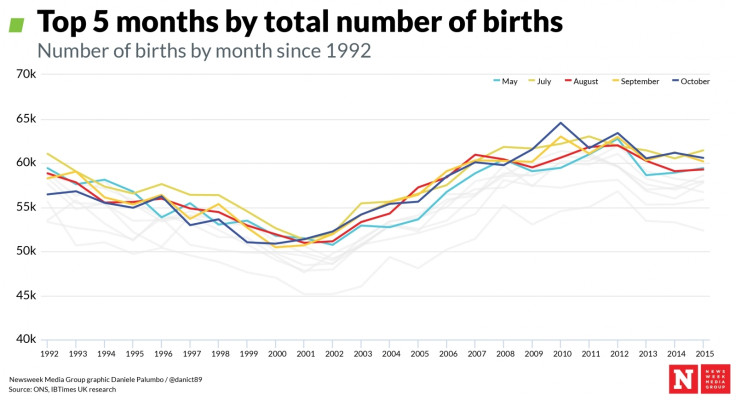 Mhairi's tweet also presents an opportunity to debunk the "Valentine's Day babies" myth. People don't have more sex than usual in February, and it doesn't amount to more births in November. Actually, according to the ONS statistics, it looks like November is as average as it gets regarding births.
We'll need to wait for the next ONS report to see if there's a "September babies" trend in 2017. However, there's at least one constant in this sea of statistics. For the last 15 years, February has always been the month with the lowest number of births, meaning that the lowest amount of babies are conceived in May each year.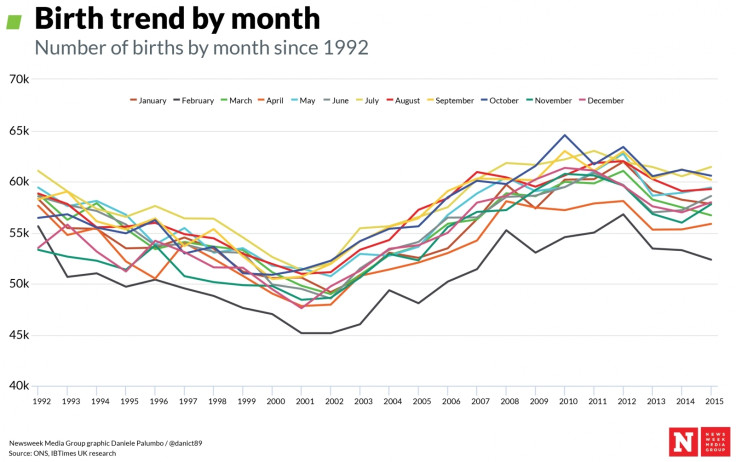 So why does Mhairi - and the many midwives who sympathised with her ordeal on Twitter - feel so overwhelmed that early in September?
On 6 September 2017, midwives joined nurses in a demonstration to push the UK government to lift its ongoing cap on their pay and to campaign against budget cuts to the NHS, which are putting pressure on already stretched services.
"The simple fact is that maternity services should have enough staff to cope with the demands being placed on them so that midwives have enough time to provide the best possible care for women, babies and their families," Jon Skewes, a director at the Royal College of Midwives (RCM), told IBTimes UK.
He added: "England is 3,500 midwives short of the numbers needed and this shortage is putting enormous strains on midwives."
The solution, said Skewes, is to hire more staff. However, he said government is not investing in midwives, which results in them burning out and quitting, and pregnant patients feeling like "cattle".
Birth rates reached an all time high in 2015 and show no sign of decreasing. The issue is not necessarily the month of conception, nor the month of birth. In 2016, the RCM ran a survey among midwives who had just left the profession: 52% said they quit because they were deeply unsatisfied by staffing levels, and 48% said they were not happy with the level of care they were able to give in the current state of the NHS.