Domino's Pizza UK & Ireland, the holder of the master franchise for Domino's Pizza Inc, remains in good health and is ready for the challenges ahead to deliver another successful year of growth.
The group's core objective remains to drive shareholder value and its strategy to achieve this is to build a business capable of continuing to deliver long-term, sustainable and growing cash flows which will be returned to shareholders through share buybacks and dividends. It is scheduled to post its Q1 2012 interim management statement for the 13 weeks to 25 March on Wednesday.
The No 2 US pizza chain full year 2011 System sales increased by 9.3 pe rcent to £530.6 million, compared to £485.3 million in 2010 with like-for-like sales in 604 mature stores up by 3.0 percent (2010: 11.9 per cent in 553 stores) with the UK stores up by 3.7 per cent. Total dividend rose by 20.6 per cent to 12.30p per share, up from 10.20p in 2010.
The pizza chain opened 62 new stores and closed down three stores in the FY 2011 totalling to 726 stores compared to a total of 665 stores in 2010. Finance Director Lee Ginsberg told Reuters it would like to accelerate expansion from its target of 60 stores a year, but was held back by planning restrictions.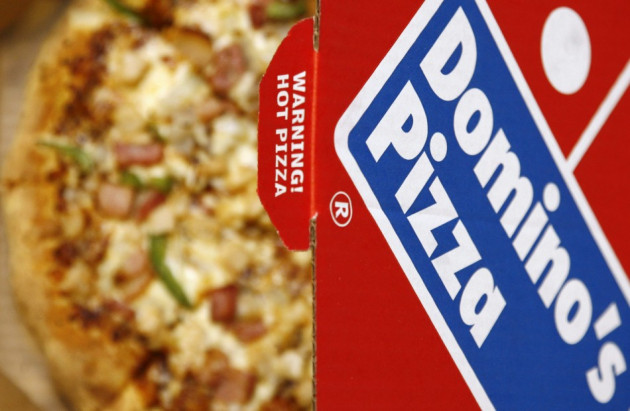 Trading in the pizza delivery company in the UK and Ireland continued to be robust during the first seven weeks of 2012 with like-for-like sales for the group increasing by 3.7 per cent, and 3.8 per cent at the UK stores. Encouragingly, the stores in the Republic of Ireland are in positive territory, up 2.3 per cent for the first time in three years. The consumer backdrop remains a tough one, but with record store openings and continuing appetite from its franchisees, it remains confident of the group's ability to drive both sales and profits going forward.
While commenting on the outlook and plans, Chief Executive Officer Lance Batchelor said: "We are delighted by the enthusiasm of some of our best UK franchisees with regards to the franchise opportunity in Germany and we are confident that our franchising model in this market will commence during 2012. I am excited and optimistic about the future and, with the support of our franchisees, we will continue to grow this outstanding business by focusing on opening new stores, testing new store formats and developing new products while always ensuring the customer is at the heart of everything we do."
Domino's, which operates the British and Irish franchises of the global brand, also said it plans to refinance its existing securitised debt, a process that may include a special dividend for shareholders and more stock buybacks. Executives declined to elaborate on the plan, which analysts said helped push shares to all-time highs.
Domino's Pizza's AGM is scheduled to be held on 28 March, 2012 at 1.00pm BST.
Below is a summary of sector comparisons in terms of price earnings, earnings per share, dividend per share, dividend yields, return on equity and price-to-book ratio. The table explains how the company is performing against its peers/competitors in the sector. The table below represents ten companies based on market capitalisation.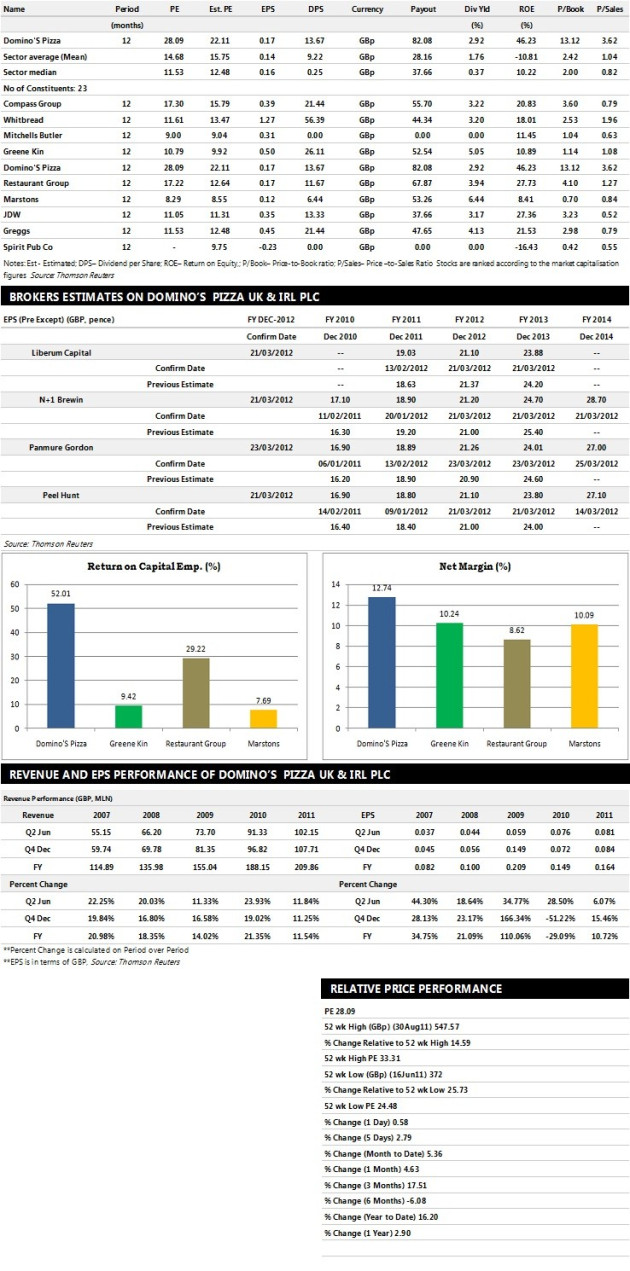 Brokers' Views:

- Panmure Gordon recommends 'Sell' rating on the stock
- Peel Hunt recommends 'Hold' rating with a target price of 480 pence per share
- N+1 Brewin assigns 'Hold' rating with a target price of 481 pence per share
- Liberum Capital assigns 'Sell' rating
Earnings Outlook:
- Panmure Gordon estimates the company to report revenues of £229.80 million and £254.10 million for the FY 2012 and FY 2013 respectively with pre-tax profits (pre-except) of £46.30 million and £52.00 million. Earnings per share are projected at 21.26 pence for FY 2012 and 24.01 pence for FY 2013.
- Peel Hunt projects the company to record revenues of £586.50 million for the FY 2012 and £649.70 million for the FY 2013 with pre-tax profits (pre-except) of £46.50 million and £51.80 million respectively. Profit per share is estimated at 21.10 pence and 23.80 pence for the same periods.
- N+1 Brewin expects Domino's Pizza to earn revenues of £234.60 million for the FY 2012 and £259.60 million for the FY 2013 with pre-tax profits of £46.50 million and £53.50 million respectively. EPS is projected at 21.20 pence for FY 2012 and 24.70 pence for FY 2013.