Domino's to start pizza drone deliveries this year
Successful test in Auckland and New Zealand paves the way for Domino's to deliver pizzas by drone.
The Domino's pizza chain is to start delivering orders by drone later in 2016. The announcement came after it successfully demonstrated how the service will work in Auckland,
New Zealand. With the test flight a success, Domino's hopes to beat rivals Amazon and Google, also known as Alphabet, to be the first to deliver goods via a flying drone.
Aviation authorities in the UK, US, Britain and New Zealand have been working to adjust their rules to accommodate the low-altitude flights.
Domino's chief executive Don Meij said: "We've always said that it doesn't make sense to have a two tonne machine delivering a two kilogram order," suggesting he hopes to see the delivery drones replace the cars and trucks Domino's currently uses.
New Zealand leads the way in commercial drone deliveries, having granted companies permission to test delivery drones in 2015; it was the world's first country to do so.
"Our enabling laws and regulation means we have the ideal environment," said New Zealand Transport Minister Simon Bridges.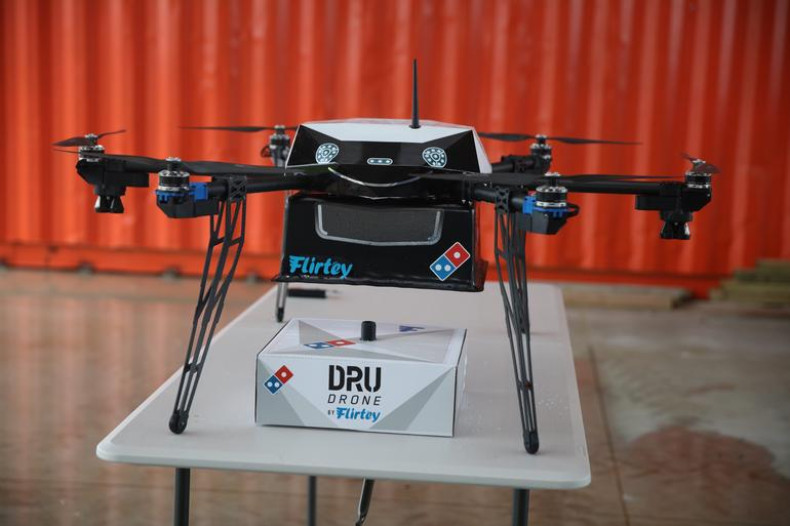 'Not a pie in the sky idea'
Meij added: "We are planning a phased trial approach which is based on the Civil Aviation Authority (CAA) granting approval, as both Domino's and (drone manufacturer) Flirtey are learning what is possible with the drone delivery for our products, but this isn't a pie in the sky idea. It's about working with the regulators and Flirtey to make this a reality for our customers."
The CEO said the drone development was a direct response to an increase in consumer demand for Domino's pizza deliveries. The company is now looking for approval to test its drones in Australia, Belgium, France, The Netherlands, Japan and Germany, as well as the UK and US.
Although the legal path has been cleared, Domino's and Flirtey will still have to overcome "random hazards [like] power lines, moving vehicles, children in the backyard playing," Philip Solaris, director of another drone company called X-craft Enterprises, told Reuters.
Solaris warned: "I can't truly see how commercially viable that idea is because you would have to literally have somebody walking along to keep it in the line of sight, watching it at all times."
Flirtey has also partnered with US convenience store chain 7-Eleven, and in July conducted a test flight to deliver coffee, doughnuts and a chicken sandwich.