Members of Congress from both parties are demanding answers in the wake of claims that President Donald Trump revealed sensitive intelligence to Russian diplomats.
Senator Bob Corker (R-Tenn.) said the negative stories involving Trump and intelligence signalled that the White House is in a "downward spiral," CNN reported.
"You know the shame of it is there's a really good national security team in place, there's good productive things that are underway through them, and through others. But the chaos that is being created by the lack of discipline is creating an environment I think—it creates a worrisome environment."
He added: "To compromise a source is something that you just don't do."
The White House has denied the Washington Post report, while Trump's staff is left scrambling to clean up yet another Russia-related scandal.
"Do not ask me about how this looks, we all know how this looks," one senior aide told The Daily Beast. Communications staff and senior staffers were reportedly "hiding in offices" just after the story broke on Monday evening.
"At this point I'm wondering if we'll ever be able to stop talking about Russia. It's totally self-inflicted. Every time I feel like we're getting a handle on the last Russia fiasco, a new one pops," a White House staffer said.
Senator John McCain (R-AZ), a frequent Trump critic, called the report "disturbing," according to Axios. "We certainly don't want any president to leak classified information but the president does have the right to do that," McCain said.
Senator Lindsey Graham (R-SC) added: "If it's accurate, it'd be troubling." Graham is leading one of four congressional investigations into Russia's interference in the US elections.
Meanwhile, over in the House of Representatives, Speaker Paul Ryan (R-Wis.) released a statement asking for a "full explanation" from the White House. "We have no way to know what was said, but protecting our nation's secrets is paramount. The speaker hopes for a full explanation of the facts from the administration."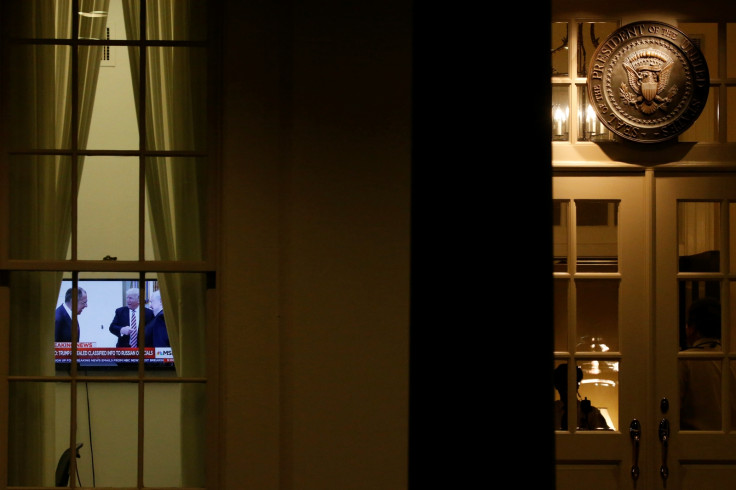 Democrats were equally caught off guard by the report.
"If the report is true, it is very disturbing," Senate Minority Leader Chuck Schumer (D-NY) said in a statement. "Revealing classified information at this level is extremely dangerous and puts at risk the lives of Americans and those who gather intelligence for our country."
House Minority Leader Nancy Pelosi (D-CA) took aim at Trump and called for a briefing, CNN reported. "Congress must be given a full briefing on the extent of the damage President Trump has done in compromising high classified code-word intelligence to the Russians," she said.
"This is really concerning that he doesn't understand that certain information you don't share with Russia. You just don't. Share. With. Russia," added Senator Claire McCaskill (D-MO).