Republican nominee Donald Trump turned his attention to a crucial issue for voters on Tuesday (1 November): rising healthcare costs and Obamacare. With one week left before the election, Trump called for a repeal of President Barack Obama's healthcare law and proposed to replace it as the law comes under fire for a recent rise in individual insurance premiums.
Trump and his running mate, Mike Pence, were at an invitation-only event in the suburbs of Philadelphia as he launched his renewed attention on the embattled healthcare law. "Obamacare means higher prices, fewer choices and lower quality," Trump said, while promising to call a special session of Congress to jumpstart the repeal. "It is a catastrophe."
The Wall Street Journal reported that Pennsylvania is one of dozens of states hit hard by the premium increases under the Affordable Care Act.
The Obama Administration announced last week that rates would increase on average about 25% across three dozen states using HealthCare.gov. However, rates are rising by a much greater average in a number of markets.
"The case has never been stronger for repeal," Pence said before Trump came on stage. "This government takeover of healthcare we call Obamacare is failing."
The Trump-Pence ticket has not given concrete details on how it would repeal the law, but the vice presidential nominee offered some insight on Tuesday.
Pence said that the GOP's ability to repeal the entirety of the law will depend on getting strong majorities in both the Senate and the House, the Wall Street Journal reported. He also acknowledged there would be a transition period to reduce disruption, especially for people who are covered under the law.
Trump, who spent around 10 minutes discussing the issue, claimed his administration would replace Obamacare with a free market-based system. The GOP nominee also accused rival Hillary Clinton of wanting to increase healthcare costs and continue what he referred to as the failing policies of Obama.
"Hillary Clinton wants to expand Obamacare and make it even more expensive," Trump said, according to The New York Times. "She wants to put the government totally in charge of healthcare in America. If we don't repeal and replace Obamacare, we will destroy American healthcare forever. It's one of the single most important reasons why we must win on 8 November."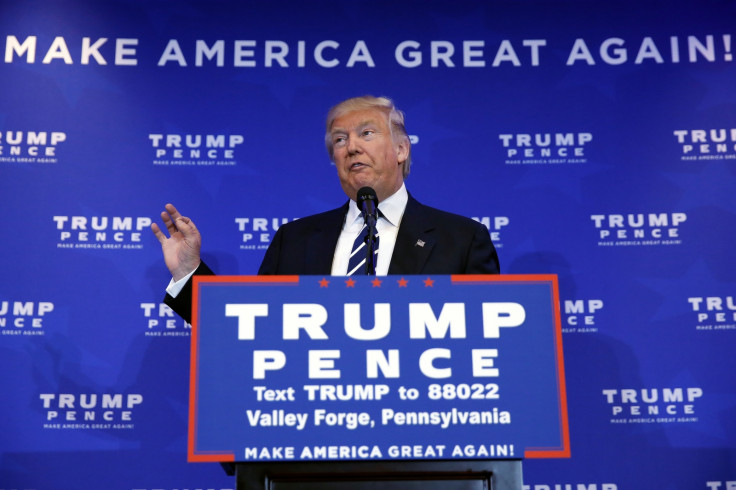 Trump noted he wanted to reduce federal regulation and coverage requirements so that insurance would cost and cover less, reported the New York Times. Americans would not be required to have health insurance, as they do under the Affordable Care Act, under Trump's proposal.
Healthcare has been a top issue among voters. A September 2016 survey by the Kaiser Family Foundation found that about six in 10 adults placed the candidates' plans to address healthcare costs was important to their vote.