Donald Trump brands Angela Merkel's immigration policy as 'insane'
He warned her policy of opening Germany's doors to migrants would spark riots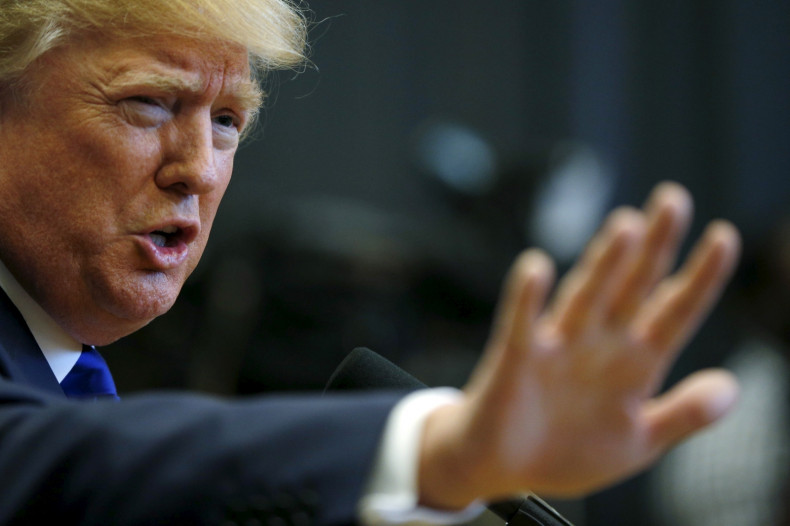 First he insulted the Mexicans in the US, branding them rapists and accusing them of being involved in crime and drugs. He has gone as far as threatening to build a wall across the southern borders to resolve the issue of over-migration from Mexico. The US Republican presidential candidate has now cast his eye on Europe and labelled German Chancellor Angela Merkel's immigration policy as 'insane.'
He warned that her policy of opening Germany's doors to migrants would only spark riots in the country. "What's happening in Germany, I always thought Merkel was, like, this great leader," he said in comments aired on Sunday (11 October) on CBS's Face the Nation.
"What she's done in Germany is insane. It's insane," he said. The former property tycoon turned TV star to now presidential hopeful, said that Europe was "going to have to handle" the migration crisis.
Germany is expected to take in between 800,000 to one million asylum seekers this year. Merkel has insisted that her country is capable of handling the huge numbers of migrants flooding into the country.
Trump however maintained his position, saying that the US should not take in the refugees warning that the migrants look to be mostly "strong men" who look like "prime-time soldiers" from the jihadist cause. "This could be the greatest Trojan horse. This could make the Trojan horse look like peanuts if these people turned out to be [Islamic State group fighters]," he said.
"What I won't do is take in 200,000 Syrians who could be Isis," he said. "I've been watching this migration and I see the people, I mean, they're men. They're mostly men, and they're strong men. These are physically young strong men. They look like prime time soldiers. Now it's probably not true, but where are the women? You see some women, you see some children. But for the most part I'm looking at these strong men. Why aren't they fighting for their country," he asked.
Trump is backing the idea of a no-fly safe zone in northern Syria where refugees can seek shelter from the ongoing civil conflict between rebels and government forces. He is proposing the Gulf states join together and "take a big swath of land in Syria, and they should do a safe zone for people." He said the Gulf states, which have "nothing but money" should fund the effort.
"And then ultimately, [people would] go back to their country, go back to where they came from," he added. Turkey has been in favour of a no-fly safe area. It has more than 1.8 million Syrian refugees within its borders.