Donald Trump bundled off stage by Secret Service agents over gun scare
People shouted 'he's got a gun', sending alarms as the Republican candidate was speaking at a rally in Reno, Nevada.
US Republican presidential candidate Donald Trump was rushed off stage by Secret Service agents following a false gun scare, while he was speaking at a rally in Reno, Nevada offering startling scenes for shutterbugs. However, Trump quickly returned and wrapped up his address.
Emerging from the back of the stage, Secret Service agents swarmed the podium and shielded the presidential candidate before removing him from stage. Panic started after someone in the crowd shouted a man was holding a gun.
Many in the gathering heard shouts like "he's got a gun" sending an alarm when the Republican contender was 30 minutes into his speech. Hundreds of people were seen rushing towards the exit of the venue. One of the attendees identified as Donald Newton told The Reno Gazette-Journal: "He had something on his belly – I don't know what it was. Somebody yelled 'gun', and everyone jumped on him."
There were minor scuffles in the crowd shortly before the incident and Trump was sheltering his eyes to avoid the lights and see what was happening.
Secret service agents said one suspect was apprehended, but no firearm was found on him. The suspect, who local reports claimed was a bald man in his 30s or 40s, was held face down and handcuffed by law enforcement personnel before being taken out of the hall. The agency's statement said that investigations into the matter continue. "Immediately in front of the stage, an unidentified individual shouted 'gun'. Secret service agents and Reno police officers immediately apprehended the subject. Upon a thorough search of the subject and the surrounding area, no weapon was found," the statement read.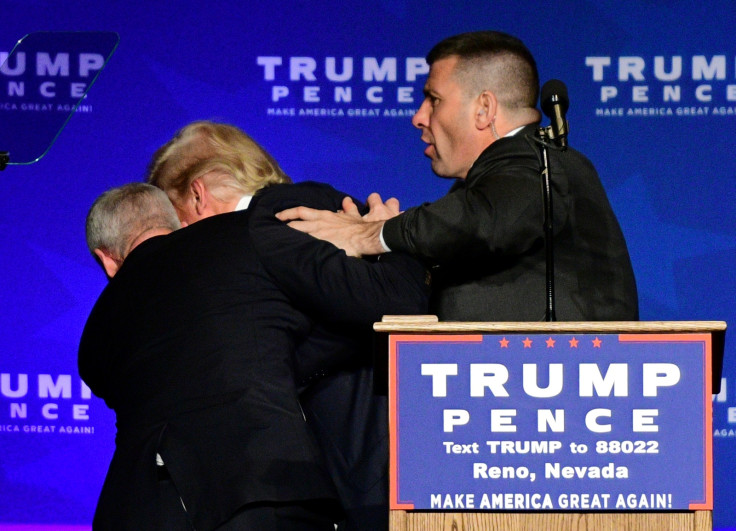 When Trump returned on stage, he said, "Nobody said it was going to be easy for us, I want to thank the secret service. These guys are fantastic. They don't get enough credit. They don't get enough credit. They are amazing people."
Rallies of presidential contenders usually have multiple layers of security, which include metal detectors and manual checks of attendees' belongings. In a similar incident in March, members of secret services had to intervene and halt a Trump rally after a man in the crowd ran towards him.
The latest incident comes as Trump is set to target Democratic strongholds such as Pennsylvania, Minnesota and Michigan in the final push for the 8 November elections.
© Copyright IBTimes 2023. All rights reserved.