Donald Trump calls for release of Venezuelan opposition leader Leopoldo Lopez
The message comes days after the US Treasury imposed sanctions of Venezuelan Vice President Tarek El Aissami.
US President Donald Trump has called for the swift release of Leopoldo Lopez, a jailed opposition leader in Venezuela, after meeting with his wife, Lilian Tintori.
In the post of Twitter, Trump said "Venezuela should allow Leopoldo Lopez, a political prisoner & husband of @liliantintori (just met w/ @marcorubio) out of prison immediately."
Tintori thanked Trump and Vice President Mike Pence in a post of her own, saying they were "standing with the Venezuelan people and our aspirations to restore democracy to our country."
The tweet comes on the same day Venezuela ordered cable channels in the country to stop showing CNN's Spanish language channel and two days after the Treasury Department imposed 'kingpin' sanctions on Venezuelan Vice President Tarek El Aissami.
El Aissami was accused by the Treasury of facilitating and supporting drug traffickers in and out of the South American country. Any US-based asset owned or operated by El Aissami are now frozen and Americans who chose to deal with him could face jail time and hefty fines.
When Lopez's detention was upheld in August 2016, Amnesty International expressed concern it was a "politically motivated" ruling.
"A decision by a court of appeals in Venezuela to uphold a 13-year jail sentence against opposition leader and prisoner of conscience Leopoldo Lopez is yet another stain on the country's crumbling human rights record," the organisation said.
Marco Rubio, included in the picture and tweeted by Trump, welcomed the sanctions against El Aissami and highlighted the plight of Lopez in a speech on the Senate floor on Monday.
"The government of Maduro outrageously accused [Lopez] of being responsible for all of this violence and they threw him in jail... He was the mayor of Chacao and the leader of "Popular Will" or "Voluntad Popular." It's a political party. He will be a critical part of building a freer, more democratic and more prosperous Venezuela. But for now, sadly, he languishes in prison."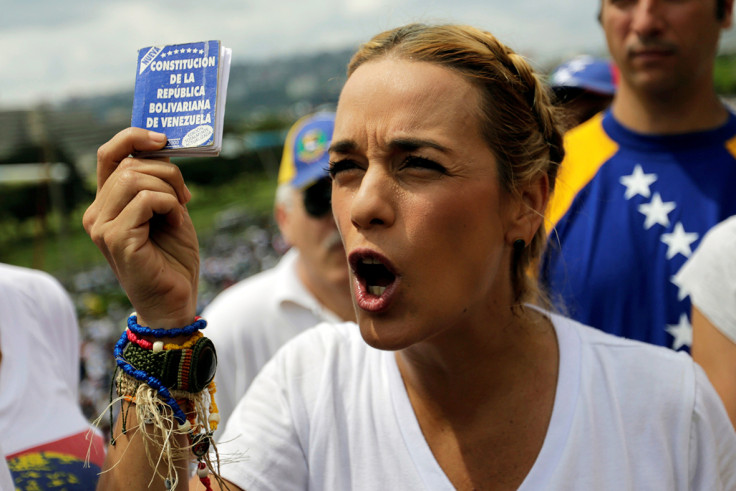 "I have encouraged, publicly and privately, our new Secretary of State and the administration to make the freedom of these political prisoners their cause and to make it a priority," the Florida Senator said.
© Copyright IBTimes 2023. All rights reserved.