Nicola Sturgeon fires Donald Trump from role as Scottish business ambassador over Muslim comments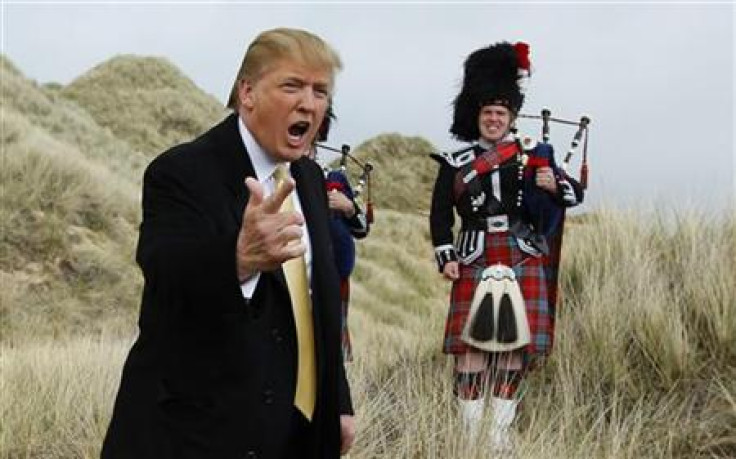 Donald Trump has been dropped as a business ambassador for Scotland by First Minister Nicola Sturgeon, as the backlash against comments he made about Muslims grows. The US Republican presidential candidate was appointed to the GlobalScot network in 2006, but Sturgeon said his role had now been withdrawn "with immediate effect".
The decision comes after Trump called for a "total and complete shutdown of Muslims entering the United States" in the wake of the Islamic State- (Isis-) linked attacks in Paris and the San Bernardino shootings in California. His comments triggered worldwide condemnation, including from Prime Minister David Cameron who described them as "unhelpful, divisive and completely wrong".
A Scottish government spokesperson said Trump's remarks "have shown he is no longer fit to be a business ambassador for Scotland" and confirmed that he would be axed from his role.
GlobalScot is a worldwide network formed under a Scottish Development International (SDI) scheme and made up of more than 700 business leaders with strong links to Scotland. The purpose of its "ambassadors" is to promote a positive image of Scotland, foster good relations in the global business community and encourage inward investment.
Scotland's then first minister Jack McConnell, who invited Trump to become one of the network's ambassadors, said at the time: "Donald has shown me a real passion for Scotland. He is a globally recognised figure who can help us to promote Scotland. I am delighted that he has taken up my offer. This is a good bit of business for all concerned."
But today's announcement by Sturgeon suggests the billionaire businessman, who owns a number of golf courses in Scotland, had fallen foul of GlobalScot's ethos.
Trump has also lost an honorary degree awarded to him by a university in Aberdeen. The Robert Gordon University (RGU) presented him with a Doctorate of Business Administration in 2010 in recognition of Trump's achievement in "business and entrepreneurship", as well as for investments he made in the north east of Scotland. The RGU said it would now take the degree away from Trump after a petition called for it to be revoked.
A spokesman for RGU said: "In the course of the current US election campaign, Mr Trump has made a number of statements that are wholly incompatible with the ethos and values of the university. The university has therefore decided to revoke its award of the honorary degree."
Another petition condemning Trump's comments as "hate speech" and calling for him to be banned from entering the UK has now been signed by more than 100,000 people. It means MPs will have to debate the issue in parliament.
Trump is no stranger to controversy in Scotland, where opinion is sharply divided on the tycoon's investments. He caused outrage last year after comparing a wind farm development near one of his golf courses in Aberdeen to the 1988 Lockerbie bombing disaster.
© Copyright IBTimes 2023. All rights reserved.