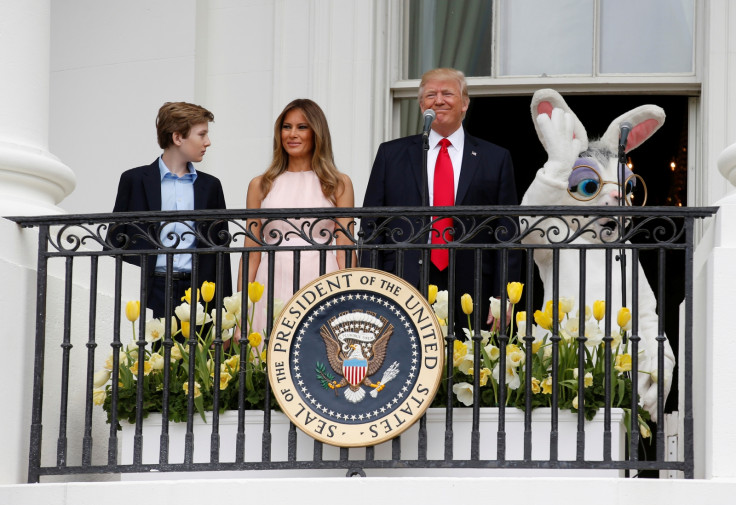 US First Lady Melania Trump saved her husband from a potentially embarrassing breach of protocol over Easter weekend – when the US President forgot to put his hand on his heart for the national anthem.
Donald Trump was hosting his first Easter Egg Roll at the White House when he took to the balcony overlooking the mansion's lawns to hear a rendition of the Star-Spangled Banner.
But while his wife and 10-year-old son, Barron, placed their hands on their hearts as soon as the military band began playing, the leader of the free world was seen simply staring into space with both arms by his side.
It was only when he received a gentle nudge from her wife's elbow that he seemed to remember tradition.
The awkward moment was first noticed by CNN reporter Daniella Diaz, with a clip of the faux pas being shared thousands of times on social media.
While Trump was criticised for the near-gaffe, his supporters pointed out that his predecessor, Barack Obama, once received flak for giving a salute to a US Marine while holding a coffee cup.
The White House's 139th Easter Egg Roll on Monday (17 April) saw 21,000 children and adults attend the festivities, officials said.
The guest list includes military families, children from local schools, and children of staff members.
Melinda Bates, the director of the White House Visitors Office under President Bill Clinton, told CNN it is "the single most high-profile event that takes place at the White House each year, and the White House and the first lady are judged on how well they put it on".
Addressing the crowds, the president appeared to use the normally politics-free event to push his own administration.
"This is the 139th Easter Egg Roll. Think of it – 139," he said. "It began a long time ago – 1878. And we will be stronger and bigger and better as a nation than ever before.
"We're right on track. You see what's happening, and we're right on track. So thank you, everybody, for being here."