Donald Trump today (29 June) took aim at Morning Joe hosts Joe Scarborough and Mika Brzezinski in a pair of vicious tweets that included taunts about Brzezinski having had a facelift.
The rant appeared to be a response to criticism of the Trump administration's handling of the media made by Scarborough on yesterday's Morning Joe broadcast on MSNBC.
Trump wrote: "I heard poorly rated @Morning_Joe speaks badly of me (don't watch anymore).
"Then how come low I.Q. Crazy Mika, along with Psycho Joe, came to Mar-a-Lago 3 nights in a row around New Year's Eve, and insisted on joining me. She was bleeding badly from a face-lift. I said no!"
It is not clear what Trump's, "I said no!" refers to.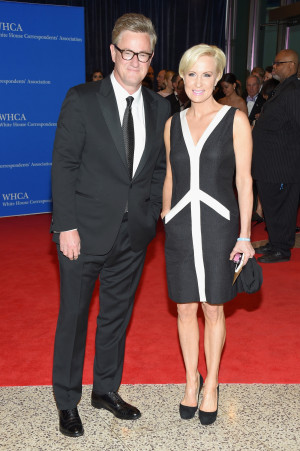 The tweets, sent just before 9.00pm EDT (2.00pm BST) presumably referred to Scarborough's comments the previous morning, when he said: "Donald Trump is only making the media stronger.
"We have record ratings for us at Morning Joe ... subscription increases at the New York Times, Washington Post ... Everyone is actually getting more viewers by holding them accountable," he added.
The host made the observation during a discussion about Trump's White House spokeswoman Sarah Huckabee Sanders attacking the "fake news" media during a press briefing.
Trump's remarks were quickly attacked by other Twitter users – particularly his targeting of 50-year-old Brzezinski's apparent facelift and low IQ.
"Wow. Not only are you questioning someone's IQ - which in itself is laughable coming from a man with 'the best words,'" said Mike P William. "But you're going out of your way to insult, humiliate, and belittle someone. How are you meant to be an icon and leader with that attitude?"
Jonathan Wier said: "By the way, how is your wife's cyber bullying initiative going?"
Trump was criticised during the race for the Repblican nomination when he said of TV journalist Megyn Kelly: "You could see there was blood coming out of her eyes. Blood coming out of her wherever."
Brzezinski responded to the attack with a reference to his famously small hands.