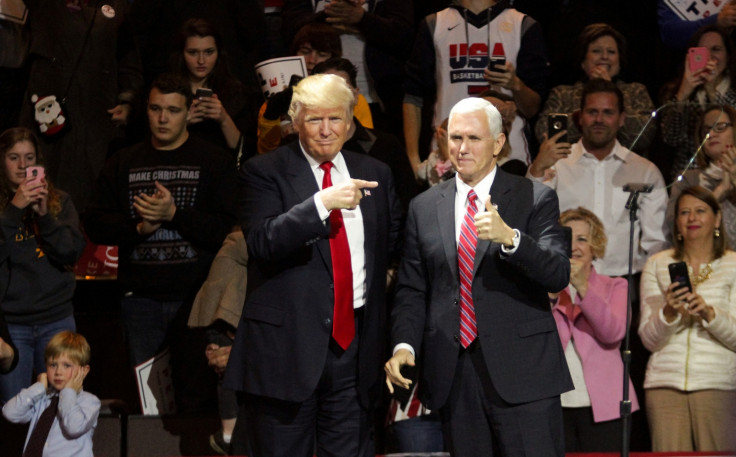 Donald Trump promised to unite the country as he kicked off his "thank you" tour in Cincinnati, Ohio. The president-elect also boasted about shattering his Democratic opponent's "blue wall" of support in the Midwest.
Trump returned to the campaign trail on Thursday (1 December) and was met by a rowdy group of supporters, CNN reported. "I love you, Ohio!" the president-elect said, noting that "now the real work begins" before outlining his presidency's agenda.
Like his rallies during the campaign, Trump boasted of his political success and took aim at the media, who he referred to as "very dishonest people" who didn't believe he had a chance to win the presidency. "The bottom line is we won," Trump said.
He bashed analysts who claimed he would not be able to break Clinton's blue wall of support in key states, such as Wisconsin, Michigan and Pennsylvania. "We didn't break it, we shattered it!" According to CNN, he also took a jab at Ohio Governor John Kasich, his one-time primary rival. "Hey, in the great state of Ohio, we didn't have the upper echelon of politician either did we?"
He continued: "I will say this, it was very nice, your governor, John Kasich, called me after the election, he said congratulations, that was amazing."
The real estate mogul turned next commander-in-chief vowed the nation would not remain divided as it has been during the election season. "We are not going to be divided for long, I have always brought people together, I know you find that hard to believe," he said.
USA Today reported that the president-elect then turned his attention to Clinton. "We did have a lot of fun fighting Hillary, didn't we?" he asked as his supporters chanted "Lock her up! Lock her up!" Since his victory in November, Trump has said he will not pursue an investigation into the former secretary of state's private email server.
The victory tour, which is set to visit the swing states that carried Trump to victory, begins as Trump continues to put together his Cabinet. He has appointed several positions and used the rally to confirm the appointment of his secretary of defence.
"We are going to appoint [retired Marine Gen James] "Mad Dog" Mattis as our secretary of defence. But we're not announcing it until Monday so don't tell anybody. They say he's the closest thing to General George Patton that we have and it's about time," referring to the US WW2 commander.
Trump's vice president, Governor Mike Pence, will visit New Orleans, Louisiana on Saturday (3 December). Additional stops on the "USA Thank You" tour have yet to be announced.