Republican presidential hopeful Donald Trump says he will impose a substantial tariff on goods entering the US from China if he is elected president. The outspoken billionaire stated that the move would help reverse the existing trade imbalance between the two countries.
His comments, made during an interview with the New York Times, come as a top financial expert warned that Trump's rhetoric is "damaging brand USA". Nigel Green, chief executive of the financial consultancy firm deVere Group, said the real estate mogul's controversial policies pose a tangible threat to the United States' business-friendly reputation.
Trump continues to dominate the Republican presidential field despite a litany of controversial statements, including a proposal to temporarily bar Muslims from entering the US.
A recent NBC poll average put Republican voter support for Trump at 35%, with Texas Senator Ted Cruz following well behind at 18%.
Mercantilist leaning?
"The only power we have with China is massive trade," Trump said.
"I would tax China on products coming in. I would do a tariff, yes — and they do it to us.
"I would do a tax, and the tax, let me tell you what the tax should be... the tax should be 45%." He added that he was a believer in free trade, but that "it's got to be reasonably fair".
The politically-sensitive US-China trade deficit stood at $343bn (£234bn; €315bn) in 2014 — compared to around $84bn in 2000.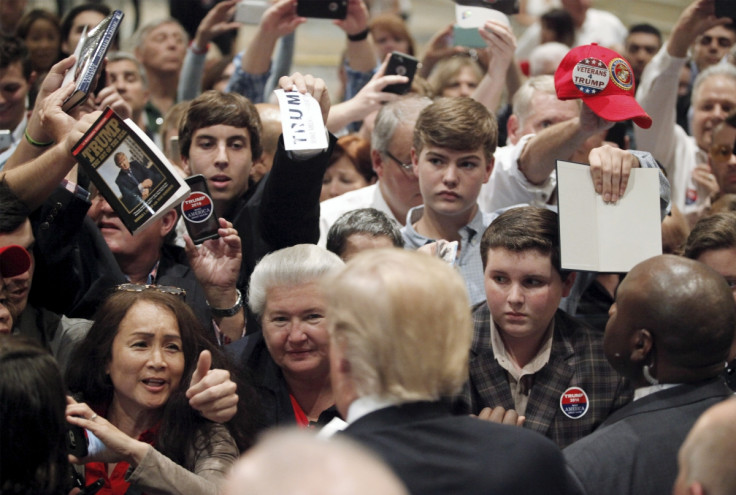 China's frequent devaluation of its currency, the yuan, in recent months has sparked concern among some policymakers in Washington, who accuse Beijing of artificially depressing its currency to boost exports.
'Not a sideshow'
Meanwhile, Green cautioned against dismissing Trump's outlandish remarks on the campaign trail as a sideshow in the wider scheme of politics.
"This is a mistake. Trump's rhetoric is damaging brand USA internationally — and that could have adverse effects on the global economy and job," he told IBTimes UK.
"What he says matters, as it is garnering non-stop media coverage globally; he has been dominating and continues to dominate the political conversation domestically and internationally and this could have wider; longer-term adverse effects.
"Few people outside the US would usually care about the race at this stage, but Trump's controversial religious and racial views have changed the status quo.
"Trump flies in the face of the message that the US is open for business. He is detrimental to America's hard-earned and invaluable pro-business reputation," Green added.