Donald Trump signs new executive order banning travellers from Muslim-majority countries
Softer travel ban allows people with visas to enter US, makes exceptions for green-card holders.
Three top members of US President Donald Trump's cabinet unveiled the new executive order banning people from six majority-Muslim nations from entering the US on Monday (6 March) — down from seven in the original order.
Trump signed the revised executive order early on Monday. The new order bans people from the predominantly Muslim nations of Iran, Libya, Somalia, Sudan, Syria and Yemen from entering the US for 90 days. Left out is Iraq.
"Iraq is an important ally to defeat Isis," said Secretary of State Rex Tillerson, adding that an "intense review over the past month identified multiple security measures" that were being taken by the Iraqi government and the US State Department to vet Iraqi travellers and refugees.
Tillerson presented the new executive order alongside Secretary of Homeland Security John Kelly and Attorney General Jeff Sessions.
Chaotic scenes emerged at American airports after the original ban was issued on 27 January, when thousands of visa-holding vacationers, students, refugees and green card-holding permanent residents were barred from entering the US. The ban was eventually blocked by a federal court on 9 February.
To avoid the same chaos, the new order does not apply to green card-holding permanent residents or those who already have valid visas.
Like the last order, however, the new one halts America's refu­gee program for the affected countries for a period of 120 days. The US will also not accept more than 50,000 refugees in a year, down from the 110,000 cap set by the Obama administration. The original order stated that "the entry of more than 50,000 refugees in fiscal year 2017 would be detrimental" to the US.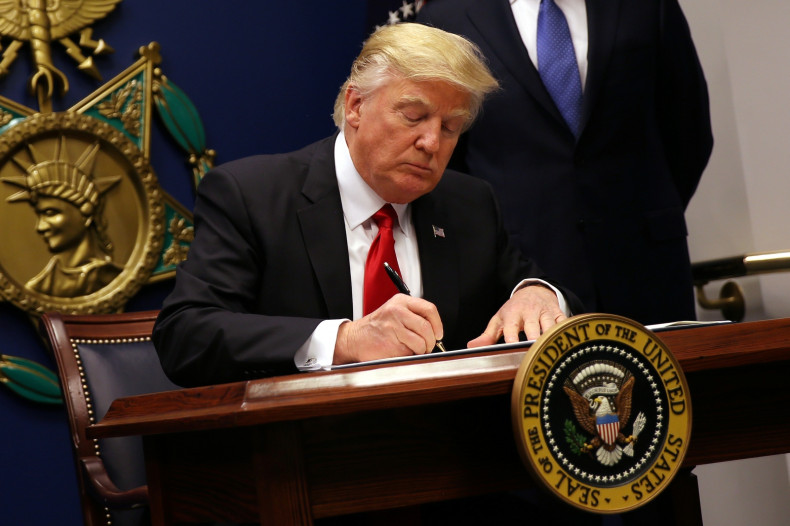 "Three of these nations are state sponsors of terrorism," said Attorney General Jeff Sessions during the new travel ban roll out. He called the ban "a needed pause" so the American government can carefully review vetting processes from each of the nations, suggesting that some governments may knowingly have lax standards to allow terrorists into the US.
Soon before the announcement congressional sources briefed by Department of Homeland Security officials told Retuers that the FBI is investigating 300 people who who came to the US as refugees as part of counterterrorism probes into those inspired by Isis and other extremist groups.
The new travel ban, Sessions said, is "a vital measure for strengthening our national security" and underscored President Trump is exercising his "rightful authority" as president.
American civil rights groups, and a number of states, have indicated that they will continue to fight the travel ban in courts.