US President Donald Trump has made an explosive accusation that his predecessor Barack Obama potentially committed a crime by tapping his phone in Trump Tower before the 2016 election vote.
Another week, and yet another crisis for Donald Trump's young presidency. "Terrible! Just found out that Obama had my "wires tapped" in Trump Tower just before the victory," Trump wrote on Twitter, adding "this is Nixon/Watergate. Bad (or sick) guy!"
Trump's accusations led to speculation he had received an intelligence briefing that revealed something new about the Obama administration. This prompted lead former intelligence officials and the FBI's current director to push back against Trump's claims.
The claims are tied to investigations into the extent of Russia's influence on the 2016 election that began last spring.
Here are the five things you need to know about the story so far.
1. Trump's tweets and sourcing
At the moment of his tweets Trump provided no evidence to back up his claims, but deputy White House press secretary Sarah Huckabee Sanders insisted on Sunday 5 March that the president was citing information from "multiple news outlets".
"Everybody acts like President Trump is the one that came up with this idea and just threw it out there," she said. "There are multiple news outlets that have reported this."
The outlets include right-wing Breitbart News, formerly lead by the president's chief strategist Steve Bannon, and right-wing radio show host Mark Levin. On his radio show on 2 March, Levin laid out a timeline of investigations of the Trump campaign's ties to Russia launched during the Obama administration. The reports are said to be circulating inside the White House.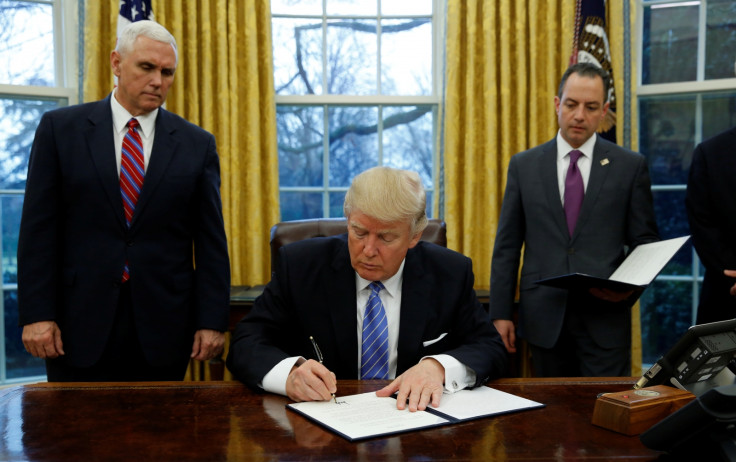 Levin suggested the investigations amounted to a "silent coup." He did not say that Trump's phone was tapped. But intercepts of the president's campaign and transition team were collected.
In April 2016 former CIA director John Brennan was passed a recording from a Baltic ally of a conversation allegedly discussing money from the Kremlin going into the US presidential campaign. This led to a large collaboration between the CIA and other agencies looking at whether money was moved from the Kremlin to covertly help Trump win. The investigations have led US agencies to identify contacts between the Trump campaign and Russian government officials.
The Trump administration is now calling for Congress to investigate US law enforcement and intelligence agency investigations into the Trump campaign launched during the Obama administration.
2. Trump presidency sees blue on blue attack
Trump's claim Trump Tower was tapped was vehemently denied by Obama's camp, who rejected the notion. Obama's spokesman Kevin Lewis released a statement saying: "Neither President Obama nor any White House official ever ordered surveillance on any US citizen. Any suggestion otherwise is simply false."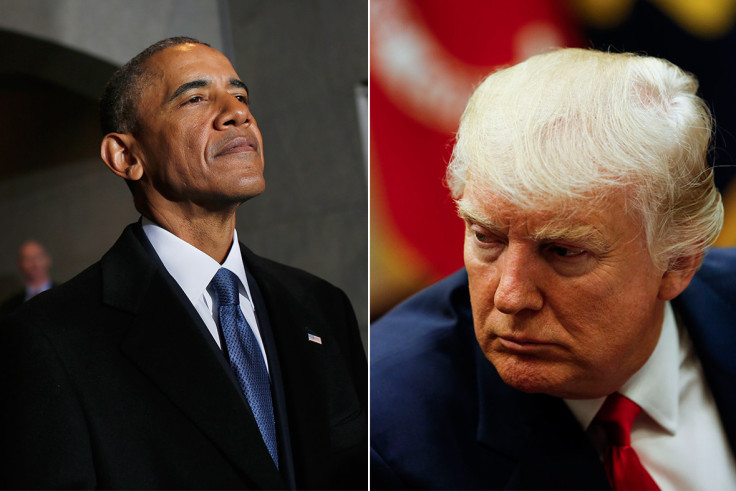 Obama's former press secretary told ABC News on Sunday that the president doesn't have the power to unilaterally wiretap an American in the US. "If the FBI decided to use their wiretapping authority in the context of the counterintelligence or criminal investigation," Josh Earnest said on ABC's This Week. "It would require FBI investigators, officials at the Department of Justice going to a federal judge, and making a case, and demonstrating probable cause to use that authority to conduct the investigation. That is a fact," he said.
What remains to be seen is whether Obama has the grounds to sue Trump for libel. In Nixon v Fitzgerald (1982), the Supreme Court ruled that the president is entitled to absolute immunity from liability for civil damages based on official acts. The question is whether tweeting conspiracy theories constitute executing official presidential duties.
3. Former intelligence officials James Clapper and Leon Panetta weigh in
When asked whether Obama had a special Foreign Intelligence Surveillance Act (Fisa) warrant to spy on Trump Tower, the former Director of National Intelligence, James Clapper, said no. "There was no such wiretap activity mounted against the president, the president-elect at the time, or as a candidate, or against his campaign," Clapper said Sunday on NBC's Meet the Press.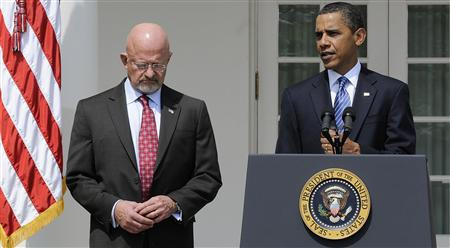 Former CIA director Leon Panetta also dismissed Trump's claims. "When he accuses a past president of wiretapping, without any evidence of that being the case, it makes us vulnerable," Panetta said on CBS News' Face the Nation, adding "it weakens the United States, and it makes us vulnerable to our enemies."
4. FBI director James Comey wants Trump's claims quashed
Following Trump's tweet on Saturday FBI Director James Comey contacted the US Justice Department (DOJ) and argued the department needs to refute President Trump's claim about tapped phones at Trump Tower. The accusation suggests the FBI broke the law since it is illegal to spy on an American citizen in the US without a Fisa warrant.
The Obama administration did obtain a Fisa warrant to investigate the Trump campaign in October 2016, but not one to specifically tap Trump or Trump Tower. Reports say communications between the Trump team and Russia have been collected from the past year.
A US official confirmed to The Associated Press on Sunday that the FBI has asked the Justice Department to dispute Trump's claim. The Justice Department has yet to dispute the allegations publicly.
5. Defence from Trump's communications specialists Conway and Huckabee Sanders
Late Sunday Counselor to the President Kellyanne Conway challenged the FBI director Comey to speak out and release a statement refuting Trump's claims on his own without the DOJ's blessing. "If Mr Comey has something he'd like to say, I'm sure we're all willing to hear it," Conway told Fox News 5 March.
When pressed on where Trump got his information about the tap early Monday 6 March, Huckabee Sanders said she wasn't sure. "I haven't had the chance to have the conversation directly with the president. And he's at a much higher classification than I am. So he may have access to documents that I don't know about."
Huckabee Sanders said the media is creating a false narrative that Obama couldn't have wiretapped Trump. We think this should be thoroughly reviewed and investigated. "If the president walked across the Potomac," she said, "the media would report that he couldn't swim."