Donald Trump will likely be welcomed by a barrage of protesters when he visits the UK later this month. The US presidential hopeful plans to fly into Scotland on 24 June to open his revamped golf course, Trump Turnberry.
Trump previously said it was "very exciting that one of the great resorts of the world, Turnberry, will be opening... after a massive £200m investment. I own it and I am very proud of it. I look forward to attending the official opening of this great development."
But his visit is likely to be dampened by a series of protests over controversial comments the billionaire tycoon has made during his presidential campaign. This includes a proposed ban on Muslims entering the US and that women should be punished for having abortions.
Several campaign groups have already called on their members to protest at Trump's golf course in Ayrshire on the day of its opening ceremony. This includes Stand Up to Racism, which has created a Facebook event page inviting thousands of its supporters to take part in its rally.
The anti-racism group, using the slogan "Stand Up to Trump", said: "As well as calling on a blanket ban on Muslims entering the US, Trump has a long history of racist outbursts. He has said 'laziness is a trait in blacks', described Mexican immigrants as 'criminals' and 'rapists', and condoned the beating of a Black Lives Matter activist at one of his rallies.
"Join the protest on June 24th to show that Donald Trump's brand of bigotry is not welcome in Scotland."
Efforts are also under way to bring together a "broad coalition" of campaign groups for a mass protest under the banner "Scotland Against Trump". The demonstration is being co-ordinated by Jonathan Shafi, a campaigner from left-wing alliance Rise who organised an occupation of Trump hotels earlier this year.
He told The Herald: "There will be a protest. The possibility of a Trump presidency is important for the world, not just for America."
He added: "Everywhere he goes he should be protested and these demonstrations should feature a broad coalition of everyone who is concerned about what a Trump presidency might mean – climate change activists, those interested in human rights, trade unionists and anti-racism campaigners, to name just a few."
The protest coalition will hold open meetings in the coming weeks to "bring together the broadest possible mobilisation against Trump reflecting the range of issues his possible presidency would bring to the fore".
A troubled relationship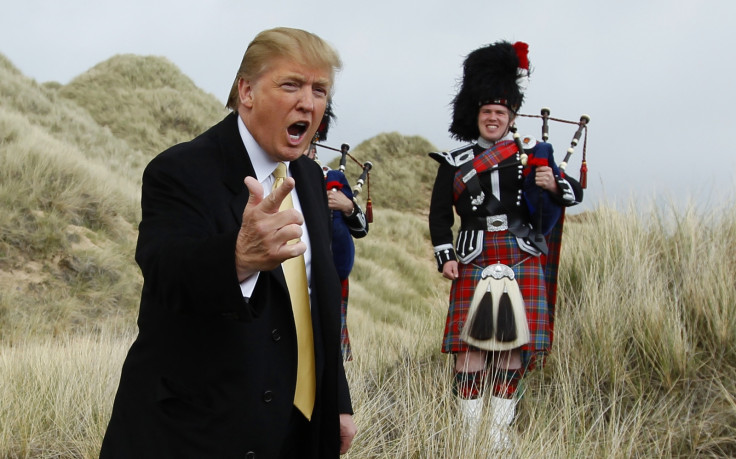 Trump is no stranger to controversy in Scotland, where opinion is sharply divided on the tycoon's investments. He caused outrage in 2014 after comparing a wind farm development near one of his golf courses in Aberdeen to the 1988 Lockerbie terror bombing.
Since beginning his campaign to become the Republican US presidential candidate, he has drawn condemnation from both the UK and Scottish governments.
In December he was dropped as a business ambassador for Scotland by First Minister Nicola Sturgeon after Trump called for a "total and complete shutdown of Muslims entering the United States".
The comments triggered worldwide condemnation, including from Prime Minister David Cameron, who described them as "unhelpful, divisive and completely wrong". They also prompted a failed petition signed by almost 600,000 people to have Trump banned from entering the UK.
It is unlikely Cameron will meet the US presidential hopeful during his visit to the UK, given he will arrive the day after the UK's referendum on whether to leave the EU. A Scottish Government spokesperson said First Minister Nicola Sturgeon had no plans to meet Trump during his visit.