Donald Trump vows to 'totally destroy' North Korea
Trump warned that the actions of North Korea could lead to an "unthinkable loss of human life."
Donald Trump has vowed to "totally destroy" North Korea if they do not desist in their nuclear ambitions.
Speaking in his first speech to the United Nations General Assembly in New York, the US president issued the warning to the Kim regime in the wake of a series of ballistic missile launches and a nuclear test.
Trump, referring to the North Korean leader, said: "Rocket Man is on a suicide mission for himself and the regime" and that the US will defend itself if it is threatened.
Trump raised the deaths of the US student Otto Warmbier and Kim Jong-un's brother while discussing the nature of the regime.
Trump also said: "We know it kidnapped a sweet 13-year-old Japanese girl from a beach in her own country to enslave her as a language tutor for North Korea's spies."
He also said that their actions threatened the world with "unthinkable loss of human life."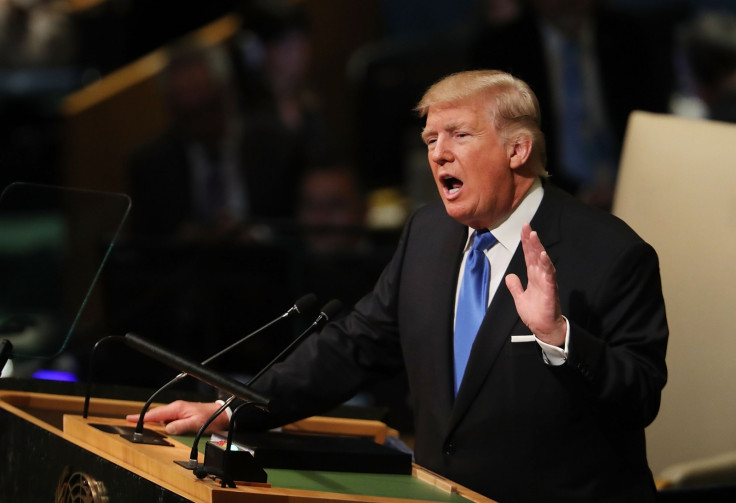 He accused the country of torture and oppression in what has been a tense time between the US and North Korea.
In his first speech to the general assembly, he also took aim at Iran, and criticised the Iran nuclear deal that was signed under Barack Obama.
He also called out that fact that out of the 193 members of the UN, the US pays 22% of the annual bill. Something he said would be "well worth it" if it managed to achieve the goals the organisation has laid out.
He said that "major portions of the world are in conflict and some in fact, are going to hell", and the UN was best-placed to help.
© Copyright IBTimes 2023. All rights reserved.