Donald Trump in war of words with Alex Salmond over £230m windfarm scheme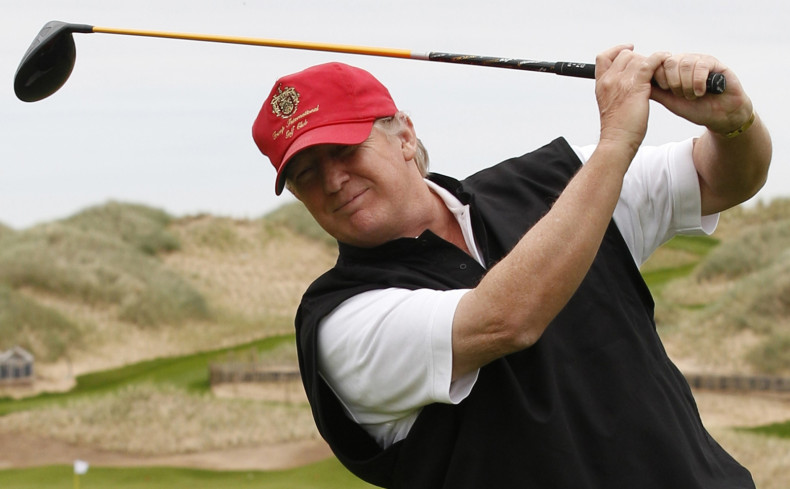 Donald Trump has reignited his war of words with Alex Salmond by accusing the former First Minister of Scotland of "ruining one of the great landscapes of the world" with windfarms.
The 68-year-old billionaire launched the attack after he lost a bid to stop a £230m ($35) offshore windfarm scheme (The European Offshore Wind Deployment Centre) from being built just miles from Trump's proposed second Aberdeenshire golf course in Turnberry.
The US business magnate asked the Court of Session, Scotland's Supreme Court, to review the Scottish Government's 2013 decision to build an 11-turbine centre in Aberdeen Bay without a public inquiry.
Scotland's most senior judge, Lord Gill, was one of the three judges who ruled that there was insufficient evidence to show that the devolved government had acted illegally.
Trump, who hopes to appeal the decision at the UK Supreme Court in London and could take his case to Europe, claimed that the electrical generating devices are "very bad for Scotland".
"They don't work. They need massive subsidy and taxes are going up for everybody in Scotland – the ones that are making money are the developers of these windfarms and it shouldn't happen," he told Sky News.
"Salmond, frankly, should be ashamed of himself because he's ruining one of the great landscapes of the world all over Scotland."
The comments come after Salmond said he was "delighted" at the Court of Session's decision.
"The Trump organisation has now been beaten twice in the Scottish courts and I hope that he will now accept the decision with good grace," the former SNP leader added.
The ruling was also welcomed by environmental campaigners, who have supported the offshore windfarm project.
"This result is good news for Scotland and for all those interested in cutting carbon emissions and creating jobs. It's now time for Trump to stop wasting any more time and money on this case," said Lang Banks, the director of World Wide Fund for Nature (WWF) Scotland.
The SNP had not responded to a request for comment regarding Trump's latest comments at the time of publication.