Donald Trump's presidential win written in the heavens claims candidate's lawyer
Michael Cohen posted an image of a cloud shaped like Trump's head on Twitter as proof of his divine nomination.
Aaron Carter, Sarah Palin, Mike Tyson and Rudy Giuliani may be some of the famous personalities in support of presidential candidate Donald Trump but it seems like he now has some bigger guns in his corner. The Potus hopeful's lawyer Michael Cohen recently posted a tweet indicating that the New York real estate mogul also has divine endorsement.
The executive vice president of the Trump Organization shared a photo of the sky (yes... the sky) where a cloud shaped like Trump's head was spotted. "In case anyone is unsure as to who will be our next #POTUS, the Lord has chosen the people's messenger," he wrote alongside the image that he posted on his Twitter account.
Cohen also tagged Trump surrogate and conservative talk show host Sean Hannity, pastor Mark Burns and Eric and Donald Trump Jr in the tweet, which refers to Trump as "the people's messenger."
Now for those in the Never Trump stands, this photo (served on a silver platter) was deserving of a meme. Soon photo-shopped images of the Trump cloud made their way online, with one showing off the candidate's reportedly "tiny hand".
The special cloud appeared around the same time Trump decided to make his first visit to a black church. On 4 September, he joined in the service at the Great Faith Ministries International in Detroit.
"I'm here today to learn," he told the congregation. "I fully understand that the African-American community has suffered from discrimination and that there are many wrongs that must still be made right," Trump said according to The New York Times, adding, "For any who are hurting: Things are going to turn around. Tomorrow will be better."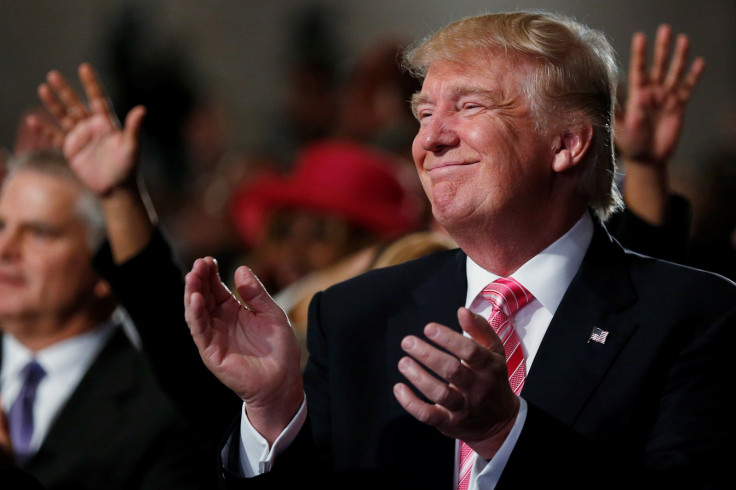 © Copyright IBTimes 2023. All rights reserved.