Thailand's prime minister left reporters dumbfounded when he opted for a silly tactic in order to evade questions about his administration. Prayuth Chan-ocha set up a cardboard cut-out of himself in front of the media and asked that they direct all their queries to it instead.
The shocking incident took place on 8 January, Monday, after the prime minister attended an event to promote the upcoming Children's Day in Bangkok. After answering a few questions from the Government House press pack, Chan-ocha decided he did not like the direction the impromptu press meet was taking and called for a replacement in the form of a mock-up.
One of the PM's aides came forward with the cut-out of the politician mid-handshake and was directed where to place it.
"If you want to ask any questions on politics or conflict," he then told the reporters "ask this guy."
He then walked away after giving the crowd a hand salute, leaving reporters literally scratching their heads in confusion.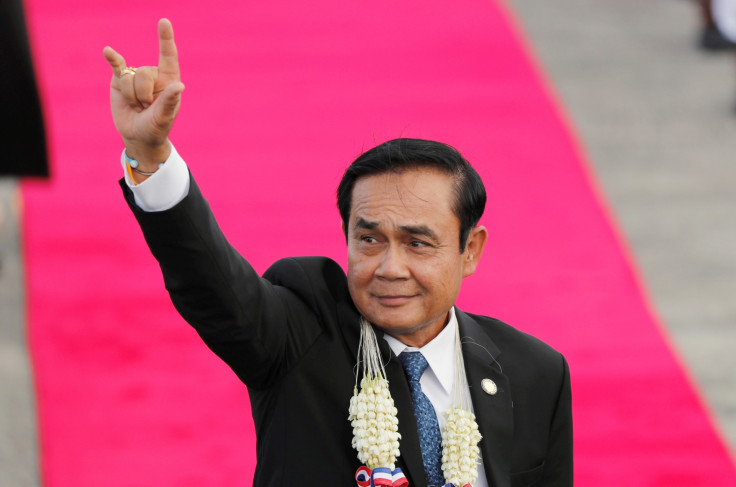 According to The Star, this is just a new addition to the retired military officer's list of shocking tactics used with the press. He once joked about executing a journalist who criticised his government and even threw a banana peel at cameramen during one press conference.
The 63-year-old's treatment of the media has been compared to the stance taken by his American counterpart. On 4 January, the US president chose to address the White House Press Corps via video message despite reportedly being in the Oval Office at the time.
He spoke about the tax cut bill which he signed into law in December and claimed it was "already delivering major economic gains".
The pre-recorded message was widely criticised as a tactic to avoid answering difficult questions and Chan-ocha's recent stunt did exactly the same. Spotting the similarity early on, Twitter began comparing the two, with many suggesting that Trump might be inspired to get a mock-up of his own for future press meets.