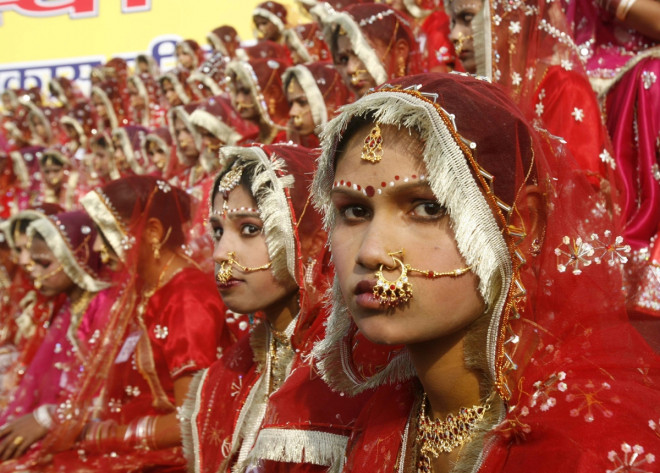 The number of women in India being killed or seriously injured in dowry disputes is increasing as the country becomes more wealthy.
Shocking government figures reveal the ancient custom of dowry has not been swept away by the march of progress in the country, but is in fact becoming more common.
One woman dies every hour in India as a result of disputes over dowry with her husband's family, according to the National Crime Records Bureau. That is despite dowry being outlawed.
Victims often die in excruciating pain from burns after having acid or petrol hurled at them by attackers frequently linked to their in-laws.
Last month, a young mother and her baby daughter were burned to death by her husband in India over a dispute over dowry payments.
Annu Devi, 22, was set ablaze by her husband Gunjan Masat, while she was breast-feeding their daughter at night.
Dowry was the source of the violence, claimed Devi's father. He said: "They were demanding a TV set and a motorcycle. I had already given them two bighas (1.6 acres) of land in dowry. They started harassing and torturing her until they decided to end her life."
Women's rights activist Kamla Bhasin claims dowry deaths are closely connected to the country's increasing wealth.
She told Sky News: "It's really linked to greed of money and it's linked to patriarchy. Traditional patriarchy is bad enough. This combination of capitalist patriarchy is lethal," she said.
Dowry-related deaths have risen steadily between 2007 and 2011, reaching 8,233 in 2012.
The low status of women means female children are at increased risk of being killed. It is estimated 500,000 female foetuses are aborted each year.
"Female foeticide takes place in the progressive states like Delhi, Haryana and Punjab, resulting in a distorted sex ratio," said Bhasin.
"It's not the uneducated or tribals that practise this but the affluent societies in large cities and towns of the country. And all this for the want of money."