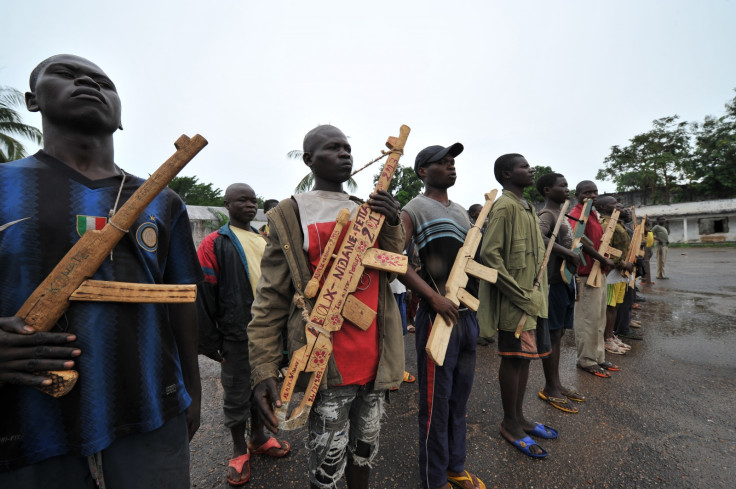 Gruesome details have emerged of serious crimes committed by rival armed groups in the Central African Republic (CAR)'s central region, which had assumed ethnic overtones, according to the United Nations (UN).
Fighting began intensifying late last year between two rival factions of the ex-Seleka rebel group – the Front populaire pour la renaissance de la Centrafrique (FPRC) and the Union pour la paix en Centrafrique (UPC).
The Seleka, a predominantly Muslim rebellion made up of loosely affiliated factions, toppled the then-president François Bozize's government in March 2013, following which the largely Christian vigilante anti-Balaka group organised itself to fight against the Seleka.
Supposedly disbanded in September 2013, the ex-Seleka splintered into several movements over leadership rivalries, but the FPRC has recently allied itself with anti-balaka militias, its former enemy, to fight the UPC.
In the Ouaka province, rebels from the UPC allegedly executed at least 32 civilians they suspected of being allied to FPRC, and captured fighters after clashes with the FPRC on several occasions in December 2016, Human Rights Watch (HRW) confirmed on 16 February.
Recalling how UPC fighters gunned down civilians on 11 December, a witness whose identify is withheld for security reasons, 41, said: "A UN helicopter circled the town for some time so we knew things were not normal. When the helicopter left, the Peuhl [UPC fighters] attacked. The town was encircled. I took my children and ran, but they were shooting at anything that moved."
In the town of Bakala, UPC fighters allegedly executed seven men who were returning from a nearby gold mine on 12 December.
"I was hiding in a house and I saw the Peuhl [UPC has close links to the minority ethnic Peuhl and armed Peuhl often fight with the group] gather the men in front of a neighbour's house and take them inside," a 55-year-old resident from Bakala, said speaking under anonymity.
"A short time later I heard screams from the men. They were yelling, 'Why are you killings us?' and 'I'm dying!' I also heard shots. This was all at 5am. A short while later the Peuhl found me and made me help throw the bodies in a well."
HRW inspected the well and "noted a putrid smell that might have come from decaying bodies".
The next day, UPC fighters calling local residents to a school for an alleged meeting, before seizing the men and reportedly gunned them down 24 men and at least one boy, whom they accused of supporting the anti-balaka. A local official confirmed the death toll.
"These executions are brazen war crimes by UPC fighters who feel free to kill at will," Lewis Mudge, Africa researcher at HRW, said. "The group is carrying out its killing sprees with no fear of punishment despite the presence of UN peacekeepers."
HRW warned the total number of victims is "most likely higher" because dozens of other people are unaccounted for, according to family members. At least 29 other civilians were killed infighting around Bakala since late November, displacing between 9,000 and 10,000 people.
Under the command of General Ali Darassa Mahamant, the UPC denied fighters executed civilians or prisoners.