Impunity in the Central African Republic remains one of the main challenges in addressing past and ongoing atrocities, as the vast majority of suspected war criminals, who date as far back to December 2012, have never been held accountable.
IBTimes UK looks at warlords and high-profile leaders who are still "roaming free" in the restive central African nation, despite allegations they have orchestrated or committed war crimes and crimes against humanity.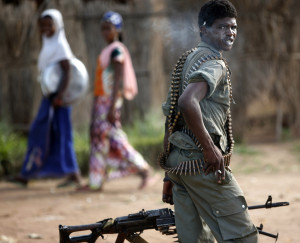 The country erupted into chaos when the Seleka, a predominantly Muslim rebellion made up of loosely affiliated factions, toppled the then-president François Bozize's government in March 2013.
Seleka leader Michel Djotodia seized power in the coup, after a period during which, according to the United Nations, his Seleka fighters "committed serious human rights violations and crimes under international law". These include the recruitment of child soldiers and atrocities against civilians, including rape, kidnappings, and attacks on schools and hospitals.
Following the coup, Bozizé reorganised and funded the anti-Balaka militia group, a collection of 'self-defence' militia made up largely of animists and Christians –
"[working] to destabilise the ongoing transition and to bring Bozizé back to power", the security council said in 2014.
Under the political leadership of Patrice Edouard Ngaissona (former Youth and Sports Minister under Bozizé), and the military command of army captain Eugène Barret Ngaïkosset (aka. 'the butcher of Paoua') the anti-Balaka targeted Seleka and, by extension, Muslim civilians in what human rights officials described as "religious cleansing".
Impunity for these abuses and war crimes remained pervasive. Anti-Balaka commander Thierry Lébéné, known as as 'Colonel Douze Puissance' – suspected of having committed crimes under international law – remains at large. Another infamous anti-Balaka commander, Alfred Yekatom, known as 'Colonel Rambo', is suspected of having conducted an ethnic cleansing campaign against Muslims after 2013. Despite being under UN sanctions, Yekatom was appointed to CAR's National Assembly later that year.
Supposedly disbanded in September 2013, many ex-Seleka continue to operate under Haroun Gaye – a businessman-turned-militia leader – and chief Abdoulaye Hissene. According to the United Nations and Amnesty, Gaye and Hissenne have committed crimes under international law and human rights abuses.
Civilians continued to bear the brunt of the fighting. Victims of a deadly combination of violence and insecurity, 453,000 Central Africans sought refuge in neighbouring countries, and a further 420,680 were displaced as of October 2016. Faced by alarming food insecurity and malnutrition, 2.3m people, of a population of 4.6m, are in need of humanitarian assistance, according to the United Nations refugee agency.
In June 2015, CAR's government adopted a law to create the Special Criminal Court (SCC) to hold these ex-Seleka and anti-Balaka warlords accountable, and pave the way to justice for victims, but just under 18 months later, the court has yet to become operational.
Meanwhile, the Office of the Prosecutor at International Criminal Court has continued its investigations in 2016, but is yet to issue any arrest warrants.