Turkey has warned the European Union to stop making threatening statements over its accession process to the bloc, over the current debate concerning the reintroduction of the death penalty.
Turkey's Foreign Minister Mevlut Cavusoglu said that while the EU was free to express its opinion on the capital punishment debate, following the failed coup attempt on 15 July (2016), it cannot make threatening statements.
Cavusoglu said that this would "backfire if they make threatening statements." He was responding to European Commission President Jean-Claude Juncker's statement that Ankara was "in no position to become a member any time soon."
"EU officials must not make threatening statements on Turkey not joining the bloc. We won't be discouraged by their threats," Cavusoglu told broadcaster Haberturk on Monday 25 July. "No offence, but Juncker cannot talk by looking down to Turkey. We won't accept that," Hurriyet Daily News reports.
Juncker had said that any country that included capital punishment in its legislation had no place in the EU. "I believe that Turkey, in its current state, is not in a position to become a member any time soon and not even over a longer period," he said on France 2, a French television station.
Juncker had warned that any moves by Ankara to re-introduce the death penalty will stop the EU accession process immediately, First Post reports.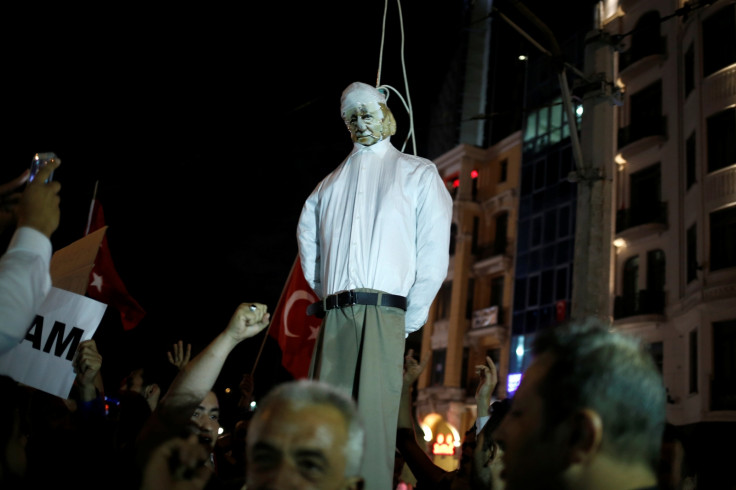 Turkey's President Recep Tayyip Erdogan told German television station ARD that was broadcast on Monday 25 July that the Turkish people wanted the death penalty restored following the coup. He said those governing the country must listen to them.
"What do the [Turkish] people say today? They want the death penalty reintroduced. And we as the government must listen to what the people say. We can't say'no, that doesn't interest us."
Supporters of Erdogan have been pushing for the death penalty to be re-instated. The death penalty was abolished in 2004 by Ankara as part of its attempt to join the EU.