Adele's wish to work with one of the hottest rappers on the charts has just been granted. Drake says he would like nothing more than to collaborate with the Hello singer on a remix of his hit single Hotline Bling.
In an earlier interview, Adele, 27, admitted she was a huge fan of the Young Money rapper and was keen to join forces on a track. Responding to her request, Drake told reporters at the Toronto Raptors vs. Cleveland Cavaliers game on 25 November: "I'd do anything with Adele. I'd literally go to Adele's house right now and do laundry for her." The Back To Back rapper had also responded to Adele's comments via Instagram, sharing a cartoon of them together with the caption: "Me and my main ting just coolin."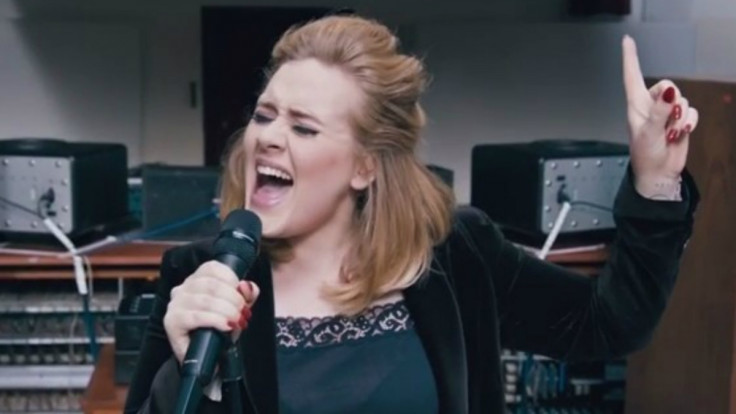 Expressing her admiration for the Canadian rapper, Adele told eTalk: "I really want us to do an official remix. I love Drake. I love Drake so much. I even got the coat that's in the video, I got it delivered the other day, I ordered it. The red one." Although, it may take the musicians a while to actually get in the recording studio as Adele is currently busy promoting her new album 25 and preparing to head out on tour in 2016. The Someone Like You singer will be touring the UK and Europe from February with four dates scheduled for London's O2 Arena.
The Grammy winner's third album has become one of the fastest-selling records of 2015 with almost 800,000 copies sold in the UK and nearly three million shifted in the US, most likely placing it as this week's (27 November 2015) number one. Drake is also busy putting together his long-awaited fourth studio album Views From The 6, which is due for release on 6 January 2016.
Even with the absence of a new full-length record, Drake has continued to dominate the charts with his and Future's collaborative mixtape, What A Time To Be Alive, topping the US Billboard 200 chart and his solo mixtape, If You're Reading This It's Too Late, also peaking at number one.
Watch Drake's Hotline Bling music video: