Rapper Drake delivered a political rant at his latest Boy Meets World tour show. The One Dance hitmaker took aim at President Donald Trump while performing at London's O2 Arena on 5 February and encouraged fans to "celebrate life" during these turbulent times.
Speaking to a sold-out audience of around 20,000 fans, Drake, 30, appeared to address the newly-elected president and his divisive executive orders, including the controversial travel ban. Towards the end of the show, attended by IBTimes UK, the Canadian rapper said: "For some reason in my room they got the TVs set to CNN. Every day I wake up, I see all this b******t going on in the world."
The Fake Love rapper continued: "People trying to tear us apart, people trying to make us turn against each other. So tonight, my proudest moment isn't selling tickets or having people sing my songs my proudest moment — if you take a look around in this room, you'll see people from all races and all places — and all we did tonight was come inside this building, show love, celebrate life, more life, and more music."
Reiterating his message in one last expletive-filled jab, a defiant Drake added: "If you think one man can tear this world apart, you're out of your m***********g mind. It's on us to keep this sh** together. F**k that man." Throughout the US presidential election campaign in 2016 and President Trump's victory in November, Drake was one of the few celebrities to maintain a wall of silence on politics.
During the London show, which was the final night of Drake's O2 Arena residency until March, the rapper ran through a medley of his biggest hits, including The Motto, Started From The Bottom, Take Care and Hotline Bling, in addition to tracks from his latest album Views, such as One Dance, Child's Play and Too Good.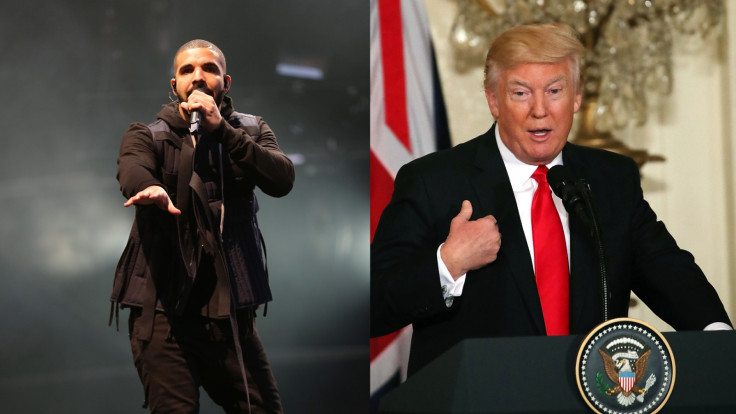 Drake has a strong relationship with the music scene in London and promised fans he would return with a London edition of his popular OVO Fest, which typically takes place in his native Toronto annually.
Announcing his plans, the Grammy-winning rapper said: "I just got off the phone with Nicki [Minaj] and she told me to tell y'all, 'Hello. We might have to do something special. We might have to do some Young Money reunion s**t out here this summer. I might have to bring all my friends from America, all my friends from Canada, the whole OVO."
At one of his earlier O<sup>2 Arena shows, Drake vowed to refund the audience after his special guest, Travis Scott, fell onto an important stage prop causing technical difficulties.
Drake's Boy Meets World tour resumes at the First Direct Arena in Leeds on 8 February.