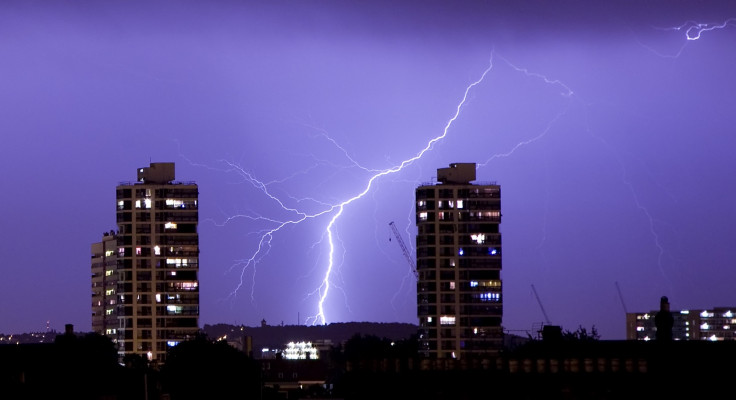 Parts of southern Britain have witnessed huge thunder and lightning as warm summer air brought heavy rain and storms to the area.
London, Brighton, Devon and Cornwall saw the brunt of the lightning, with the Met office issuing a yellow warning for rain for parts of southern and central England and Wales as the rain continues to sweep across the UK.
Dramatic pieces of footage of the lightning were captured and shared on social media as the storms battered cities and towns throughout the night.
The heavy rain also saw people being rescued by helicopters as flooding hit a coatal village in Cornwall
Issuing a yellow warning for rain for Wednesday (19 July), the Met office said in a statement: "Thunderstorms, with locally torrential downpours will continue to move north across England and Wales in the early hours of this morning.
"Although the thunderstorms will tend to ease from the south later in the night, further, possibly severe storms may break out again this afternoon, probably focused over parts of northeast Wales, central and northern England.
"Although some places will miss the thunderstorms, there is a chance of localised sudden flooding of homes, businesses and roads. Frequent lightning and large hail may be additional hazards, the latter bringing potential for disruption to power networks."
Forecasters warned people in northern parts of the UK to expect further thunderstorms. A Met Office spokesperson said: "Rain across Northern Ireland and western Scotland, heavy at times with a risk of thunder. Heavy, thundery showers developing across parts of England and Wales in the afternoon with hail for some. Turning very hot in parts of eastern England.
"Thundery showers continuing to move northeast this evening. Further outbreaks of rain then moving east overnight, introducing fresher conditions into the west. Staying warm and humid in the southeast."