Congratulations are in order for former Basketball Wives LA star Dray Michele and her fiancé NFL cornerback Orlando Scandrick, who are expecting their first child together. The couple, who reunited in 2015 after a turbulent year, will welcome their new addition in late April.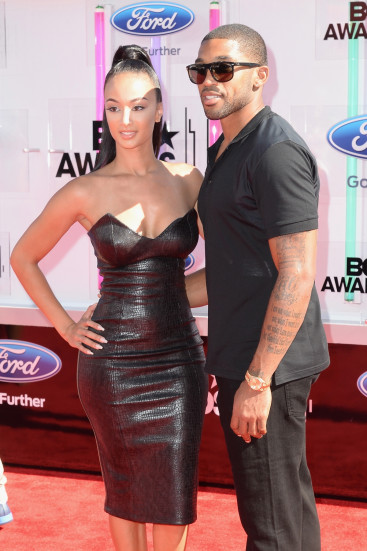 The 30-year-old actress and businesswoman confirmed the news to People magazine and used an exclusive spread in the publication to show of her burgeoning bump. In the two images she sits on a fur rug in a black swimsuit while gently cradling her stomach.
Recalling the moment she found out, Michele told People: "I'm not sure what made me decide to take a home pregnancy test, but I decided on taking two at the same time! They were both positive and I was instantly excited."
Following a short bout of morning sickness the couple found at 12 weeks that they were expecting a boy. Although he will be their first child together, Michele is also mum to 13-year-old Kniko, and Scandrick, 28, has six-year-old twin daughters Taylor and Tatiana.
"Technology and ultrasound machines are much more advanced then 13 years ago when I had my first child," she said, adding that the family were preparing for a Taurus baby. "He'll be the first Taurus in our family of four Aquarius and one Capricorn (almost Aquarius)!"
Despite heading into her third trimester, the Mint Swim boss says she won't let her pregnancy slow her down. "I plan on working on the 2016 summer collection of Mint Swim and I have a few movies premiering as well as a TV show. I'm a very busy lady and I love taking my bump to work with me."