Reporters Without Borders (RSF) has condemned the beating that Radio Tomisa journalist Badylon Kawanda received from members of the National Intelligence Agency (ANR) in the Democratic Republic of Congo (DRC)'s south-western city of Kikwit last week. Reporters in the DRC are facing repeated threats and violence in the volatile African nation that is now ranked 152nd out of 180 countries in the latest World Press Freedom Index published by RSF.
Critics of President Joseph Kabila – who is bound by the constitution to step down in December 2016 as he has served two full terms since 2001 – have accused him of trying to postpone presidential elections slated for November 2016 in a bid to extend his grip on power. Those same critics are facing death threats, politically motivated arrests or beatings from authorities for opposing attempts to prolong the president's term in office.
RSF's partner organisation in the DRC, Journaliste En Danger (Journalist In Danger, JED), confirmed Kawanda, who works for a religious radio station based in the capital of the southwestern province of Kwilu, was physically attacked on 14 April in the provincial headquarters of the National Intelligence Agency (ANR) by the head of the office and his staff.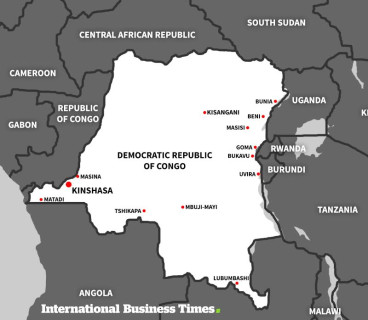 A 'disgraceful attack' on Badylon Kawanda
According to the information obtained by JED, Kawanda went to the ANR provincial office to ask about a freight agency employee who was being held there after a reported brawl with a taxi driver.
After giving his name, Kawanda was hit several times by the head of this provincial office, who then ordered his employees to "thrash" him. According to JED, the officers threw Kawanda to the ground, causing him to wrench a knee, and broke his work equipment.
Reached by telephone, Kawanda confirmed that he lodged a formal complaint about the attack with the military and civilian authorities in Kikwit.
"All of the authorities that I personally contacted after this disgraceful attack promised me that they would raise it with the local ANR chief," he said. "I am still waiting to learn what action has been taken in response to my complaint."
JED called on ANR general administrator Kalev Mutond to order an immediate investigation with the aim of identifying and punishing the perpetrators of the attack. RSF, meanwhile, called on the Congolese authorities to investigate the attack without delay so that those responsible can be punished. An ANR official refused to talk to JED when reached by telephone.
Government crackdown on media and opposition
Earlier this month, rights groups strongly condemned the expulsion of Jason Stearns, a prominent American researcher and director of the Congo Research Group (CRG) at New York University, from the DRC.
While the reason given by Congolese authorities for Jason Stearns' expulsion was his "undesirability", his ousting came just weeks after he published a report linking soldiers in Congo's army to the massacres of civilians in the town of Beni, in the country's northeast, since 2014.
Civil society groups are also urging the African Union to demand the immediate and unconditional release of two Congolese youth activists, Fred Bauma and Yves Makwambala, who have been imprisoned for over a year now in an apparently politically-motivated drive to silence dissent.