The government of the Democratic Republic of Congo (DRC) is trying to "neutralise" presidential candidate Moise Katumbi and remove him from the race, former planning minister Olivier Kamitatu has said. Speaking exclusively to IBTimes UK, the opposition G7 coalition member added that President Joseph Kabila – who is constitutionally bound to step down from power once his second full term expires later this year – will seek to appoint a "puppet" to "keep his regime in place".
A vocal opponent of Kabila, Katumbi is tipped to become the next president if free, fair and timely elections are held. But allegations that the former governor of the mineral-rich Katanga Province hired mercenaries could stop his presidential bid dead in its tracks.
Kabila's critics accuse him of trying to cling to power beyond the legal limit set by the constitution.
Justice Minister Alexis Thambwe Mwamba ordered an investigation into accusations that Katumbi had hired foreign mercenaries on 4 May, the same day that Katumbi accepted his nomination as presidential candidate by three Congolese opposition movements. Katumbi has vehemently denied the "grotesque lie" and the US Embassy in the capital, Kinshasa, said it was "deeply concerned" about the allegations that it "believes to be false".
Katumbi: A civilian faces military court
Katumbi was summoned to the prosecutor general's office in the DRC's second city, Lubumbashi, on 9 May as hundreds of supporters chanted: "President! Today is the day". IBTimes UK has received confirmation that the case is being transferred to a military court in Kinshasa after the judges said they could not preside over the case because "mercenaries are seen as an arm of war".
Kamitatu said the opposition coalition expects the transfer of Katumbi and a number of his supporters to take place under the cover of darkness due to his "power base" in Lubumbashi, where he is hugely popular. According to Human Rights Watch, at least 27 associates of the presidential aspirant and other opposition party members have been arrested since the end of April 2016.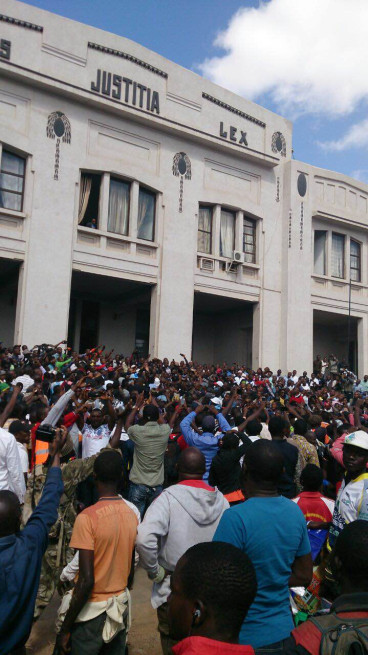 The G7's concerns that Katumbi will be removed from the presidential race were echoed by pro-democracy activist group Filimbi. The organisation's coordinator, Floribert Anzuluni, told IBTimes UK: "This seems to be an attempt to neutralise because the power seems completely lost due to the fact that President Kabila officially lost the support of Katanga since the G7 and Moise left the presidential majority."
Under Congolese law, a candidate cannot take part in the presidential race if they have been found guilty of a crime. "A candidate cannot participate in the presidential race if he has a condemnation on him," explained Kamitatu.
Who will dance to Kabila's tune?
"Moise Katumbi's criminal record is tarnished, and in Congo, being accused or charged with mercenary activity is the worst condemnation possible. To use mercenaries means it is for an internal war – they didn't go [and] look for fiscal or financial accusations, but they are using a case that is extremely emblematic, that is extremely loaded in the Congo."
Kamitatu added that the likeliest successors would either be current Prime Minister Augustin Matata Ponyo or Kabila's wife, Olive Lembe di Sita. "Those are both well seen as puppets and successors," said Kamitatu.
This was corroborated by the DCI group, a Washington-based independent public affairs consulting firm. A statement released by the group following Katumbi's appearance in court read: "Kabila would likely support one of his close associates (possibly his wife or the prime minister, maybe his sister) to run, clearing the way for the ruling party to stay in power.
"Kabila believes this will satisfy international clamour for elections. However, these actions would not satisfy the demands to clear the political space – and have free, fair, transparent, and timely elections."
Katumbi's removal from the presidential race provides further incentive for Kabila to hold timely presidential elections following heavy international pressure as it would allow him to consolidate his political power base, according to Kamitatu. "We can suspect now that he'll accelerate [the electoral process] because he can't face any longer the pressure of the international community.
"The destiny of Congo's democracy is today linked to the fate of Moise Katumbi," he added. "What will happen to Katumbi will be what Congolese can expect from their leaders."
The Congolese embassy in London did not respond to a request for comment by the time of publication.