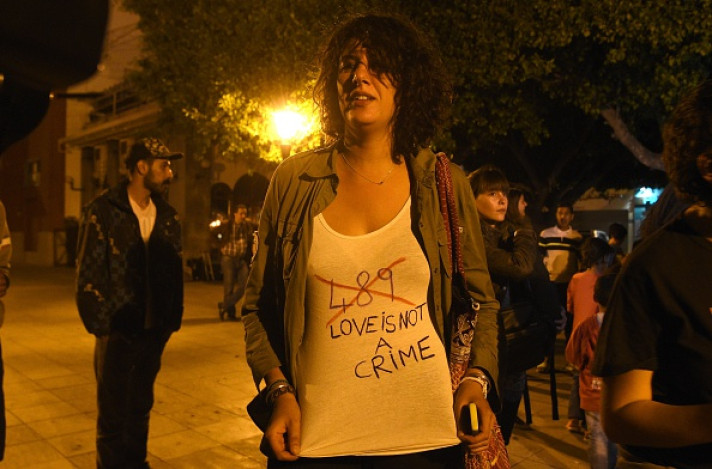 Human rights organisations have urged authorities in Marrakech, Morocco, to drop homosexuality charges against two teenage girls after they were allegedly caught kissing and hugging. The pair, only identified as 16-year-old Sanaa and 17-year-old Hajar, were arrested in in October.
Moroccan law considers homosexuality an act of "sexual deviancy" but while its courts frequently prosecute men, this is the first time it has targetted women.
Human Rights Watch (HRW) and Morocco's Aswat Group for Sexual Minorities have urged the authorities to the drop the charges against the teenagers. They face up to three years in prison and fines of up to 1,000 dirhams ($104). Criminalising consensual, homosexual conduct violates fundamental human rights protected under international law, the rights groups said.
"These two girls could go to prison for simply expressing affection for each other," said Sarah Leah Whitson, Middle East and North Africa director at HRW. "Moroccan authorities should drop charges against them and stop prosecuting people for private consensual acts."
Moroccan and regional human rights groups denounced the girl's arrest. Both girls were released on 3 November pending trial, set for today (Friday, 25 November).
Human rights groups have raised concerns over fair trial, after allegations of rights violations during the girls' detention emerged.
Moroccan courts rely on police statements as proof of guilt, and frequently ignore or reject defence lawyers' arguments that police use dubious methods to obtain statements and falsify their contents, HRW warned. In five cases involving 77 defendants adjudicated between 2008 and 2013, Moroccan courts convicted the defendants primarily on the basis of contested confessions.
One of the defence lawyers, Moulay Elghourfi, told HRW that the only evidence he has seen are the "confessions" written in the police report – content which the girls repudiated in front of the prosecutor, saying the police had forced them to sign statements they had not read.
Hajar told Aswat she was forced to sign five statements, none of which she was allowed to read. HRW, which reviewed the police reports, said police had written "identical" testimony and identical confessions relating to "sexual deviancy" – except for the names of the girls.
The organisations also raised concerns over detention conditions after police transferred Hajar to an adult prison – in violation of Moroccan law and international standards which require the separation of minors from adults in detention.
Supporters have taken to social media to demand the charges are dropped and the girls released, using a hashtag #FreeTheGirls.