Drunk on Burgers: Brewery Creates Alcohol-Pumped Patty You Need ID to Buy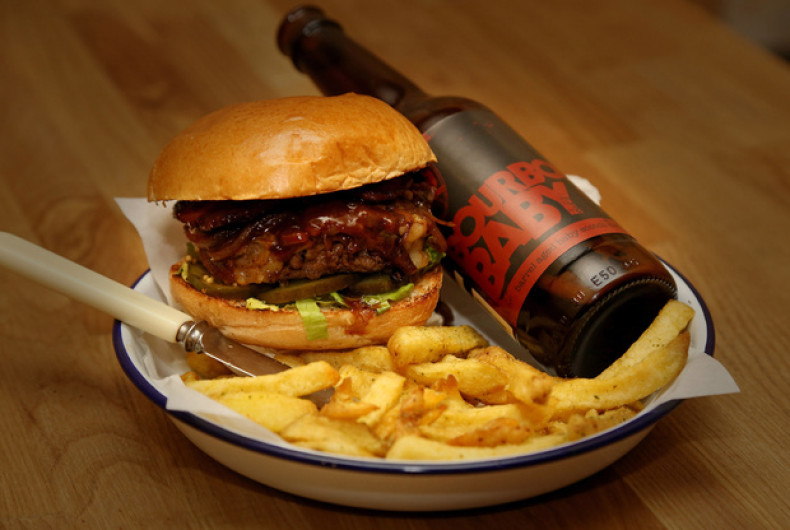 A brewery in Scotland has created a beer burger that customers must have ID to buy because of its alcoholic content.
BrewDog, in Scotland, teamed up with restaurant Honest Burgers to create their beer burger, which includes a beer-flavoured barbeque sauce and an ale that goes with it as beverage.
Announcing the meaty boozy creation, BrewDog said: "Ladies and gents, we are super excited to announce the BrewBurger! This is the ultimate incarnation of food and beer pairing. We have worked closely with [Honest Burger's] Tom and his team to develop not only a perfect beef patty topped with beer candied bacon and a beer BBQ sauce, but also the ideal brew to sip alongside it.
"The beer is a 5.8% barrel-aged baby scotch ale called Bourbon Baby, which is the ideal accompaniment to this burger as the honey notes and spicy sweetness meld beautifully with the rich beef and tangy BBQ sauce."
They described how the Bourbon Baby has "blossom honey flavours" and how it has been barrel-aged to add a "demonic, dark vanilla twist".
"The burger itself is a 150g aged beef patty topped with Comté cheese, then piled high with 5am Saint candied bacon. Oh yes. Then on top of that, we've got beer fried onions, made with Punk IPA, and for the icing on the burgery cake we've developed a BBQ reduction with Paradox!"
James Watt, co-founder of BrewDog told The Drinks Business that pairing beer with food has become big business and that the BrewBurger challenge had been an interesting experiment: "This meant the pairing for the BrewBurger demanded something totally new and distinctive that worked with such a complex creation, and that was precisely our approach in creating Bourbon Baby. It's also the first time a burger has come with an abv, which is pretty cool."