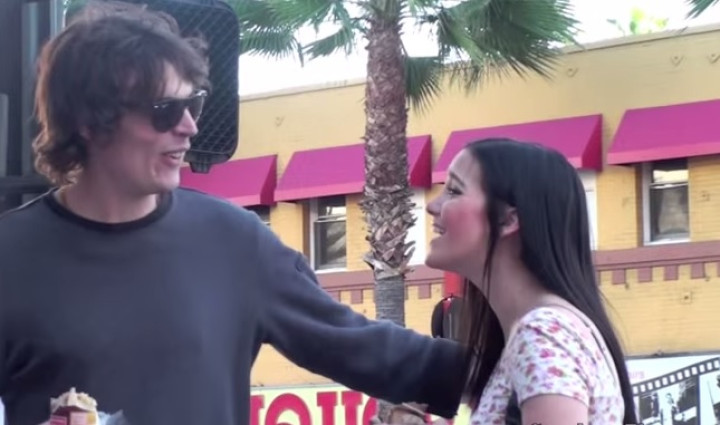 A YouTube video of an actress pretending to be drunk and being picked up by a handful of men has been viewed over seven million times, the latest clip to purportedly highlight the problem of harassment.
In the video, which follows on from the success of footage showing a woman being repeatedly catcalled on the streets of New York, Jennifer Box, 24, appears to stagger and slur her words.
"Hey guys, today I'm on Hollywood Boulevard, I've had a little too much to drink. Let's see if anyone will help me to get home," she says.
Drinking out of a paper bag, she is approached by five different men. Four attempt to take her home with them, despite her requests for the nearest bus stop. Only one man tries to help her get home.
Social media commenters have been quick to question the validity of the street harassment in the video. Some suggest it is a stunt exploiting the hype created by the New York video, which was watched over 35 million times.
In the new video, entitled "Drunk Girl In Public [Social Experiment]", the faces of the men are not blurred, which has led some to suggest they were actors or aware of the camera.
Even if the video was staged, it no doubt highlights the issue of sexual harassment – and the danger faced by women. But using a publicity stunt to draw attention to the problem threatens to trivialise unacceptable behaviour which, on a daily basis, threatens the safety of women worldwide.
Unlike the New York video, which was created with a clear goal in mind by the anti-harassment group Hollaback, it is unclear whether this video is connected to any groups which specifically strive to preventing harassment.
What is known is that the 'drunk girl' video was created by 20-year-old Stephen Zhang, the CEO of Hygo Inc – an online marketing corporation that specialises in social media networking and website development. Zhang's personal logo appears throughout the clip.
He posted the video on 9 November, with the comment: "We went out to Hollywood Blvd to see how guys would treat a drunk young woman out on the streets." His other YouTube videos focus on "pranking" people in southern California – and none have surpassed more than 21,000 views.
A source who worked on the production of the clip allegedly told The Smoking Gun that all the men who featured in the video were approached by Zhang and his co-producer Seth Leach. According to the website, men were asked to take part in a "comedic, hidden camera" video.
It is important to note that Leach also stages stunts for publicity purposes. With this in mind, critics have suggested that the video serves the interests of the creators, rather than the interests of women.
To really get the point across about the devastating effects of harassment, transparency is important, so viewers do not feel they have been tricked. Without context, the video can be perceived as solely being designed to provoke – which can be counterproductive. Heavily edited footage that creates a skewed picture of harassment is not the way to highlight a problem which has a devastating, and lingering, effect on the mental health of women.
Cat-calling or harassment is a statement of power. It suggests entitlement over women's bodies - to discuss, judge, praise or touch. It is dehumanising. Crossing the road to skirt around large groups, pulling down your skirt and avoiding eye-contact are all symptoms of the paranoia harassment inflicts.
Verbal harassment causes a flood of different emotions: Fear. Anxiety. Impotence. Anger. Misplaced shame. It has life-changing effects on a woman's sense of security and confidence, as well as posing a real threat to personal safety.
The argument that women should "take it as a compliment" does not hold water. And it will do more than a prank video to show how destructive harassment is.