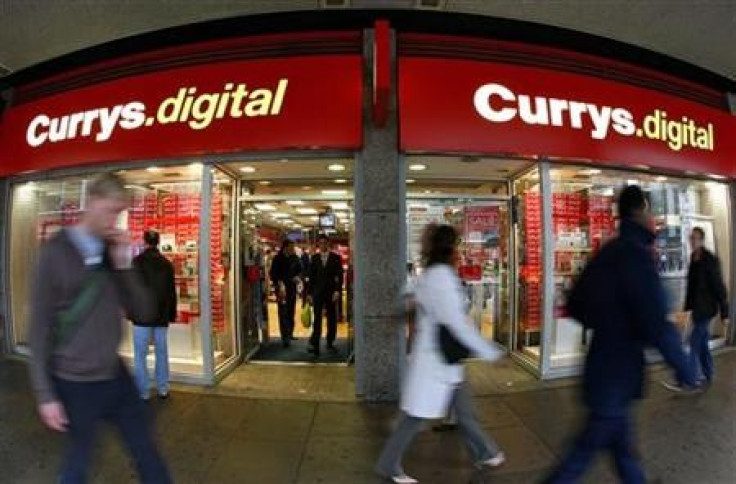 Pre-tax profit at DSGi, owner of Currys electrical stores, increased 61 per cent in the full year ended 1 May.
The group said that its total underlying sales in the period were up four per cent to over 8.5 billion pounds, while total group sales were up three per cent, also to 8.5 billion pounds.
Like for like sales at the group were up two per cent in the full year but rose six per cent in the second half of the year.
Profit in DSGi's Britain and Ireland business rose 21 per cent while in the Nordics profit was up 28 per cent. However overall group underlying pre-tax profit was up 61 per cent to 90.5 million pounds. Analysts had predicted instead a rise to 91.4 million pounds.
Net debt at the company was reported as being halved from 477.5 million pounds to 220.6 million pounds. Free cash flow was 28.1 million pounds, up from an outflow of 340 million pounds the previous year. The company said it was still on track to deliver on its four year 200 million pound cost savings programme, having saved 50 million pounds in the last year.
The group said it was continuing with its store transformation programme and had reformatted 200 stores by the end of the year. DSGi said that on average reformatted stores saw gross profit uplifts of 20 per cent, rising to 50 per cent in the case of its Megastores and 2-in-1 stores.
Online the group said it made sales worth 1.4 billion pounds, representing 16 per cent of total group sales.
DSGi also said it was making good progress in its Italian, Spanish and Greek businesses, despite "economic challenges".
In an outlook statement DSGi said, "The economic backdrop across Europe has remained challenging throughout the year. The Group expects these conditions to continue in the coming year in many of its markets where consumer spending is likely to come under pressure from fiscal tightening. The Group is well prepared for this environment and continues to focus on improving the offer for customers while managing costs, margins, stock turn and cash flow. Consequently, given the Renewal and Transformation plan, Group profitability will continue to improve.
John Browett, Chief Executive of DSGi, said, "Focus on our customers drives everything we do and I am delighted with the excellent progress we have made over the past twelve months as we continue to transform the Group, despite the recessionary environment across Europe. We have made significant improvements throughout the business, transforming the shopping experience for customers with better choice, value and service both in stores and online. We are now two years into the Renewal and Transformation plan and are encouraged by the improved profitability and competitiveness it continues to deliver."
© Copyright IBTimes 2023. All rights reserved.