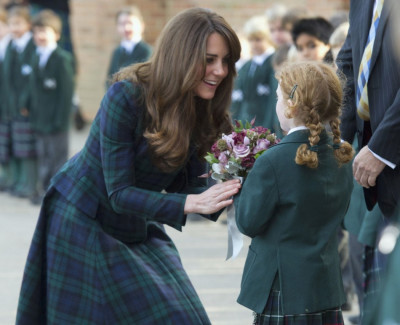 The Duchess of Cambridge paid a visit to her old preparatory school in Pangbourne, Berkshire to join in the St Andrew's Day celebrations today.
Wearing a tartan jacket, Kate Middleton played hockey and met staff and students at St Andrew's School, which she attended between 1986 and 1995.
She was greeted by bagpipes at the school, where the students lined up to meet the future Queen.
St Andrew's was attended by both of Kate's siblings, Pippa, who was head girl and brother James.
The school costs £5,000 per term to attend and has around 270 pupils. Prior to the visit, a spokesman for Kate said: "She was invited to go back and was very keen to do so. It's the first time in many years she has been there."
During her speech, the Duchess told how her nickname at school was Squeak after the school's guinea pig.
According to the Daily Mai, she said: "It is such a treat l to be back here at St Andrew's. I absolutely loved my time here; they were some of my happiest years, which makes it so incredibly special to be here today.
"In fact, I enjoyed it so much that when I had to leave, I told my mother that I was going to come back to be a teacher. While that didn't quite happen, I was thrilled to have been asked back today on St. Andrew's Day.
"It was while I was here at school that I realised my love of sport. Sport has been a huge part of my life, and I feel incredibly grateful for the opportunities I had to get outside and play in such wonderful open spaces - though sadly there was nothing quite as glamorous as this in my time.
"I hope that you all enjoy playing sport here as much as I used to, and make the most of these incredible facilities."
Catherine attended a private lunch and had a tour of the school building before opening a new Astro turf pitch, which she played hockey on to test it out.
Deputy head Richard Hudson told the BBC that it was an exciting visit, adding that she was very sporty during her time at the school.
"She held our record for the high jump... for about 20 years she's had that," he said.
"She was very hard working, very polite and friendly, [and] very kind to the younger children."