The Duke of York stood to make nearly £4m ($5.8m) from a deal he tried to broker between Kazakhstan and two Greek and Swiss companies while he was still working as the UK trade envoy, it has been alleged by a tabloid newspaper.
According to emails leaked to the Daily Mail, Prince Andrew allegedly attempted to use his royal status to leverage lucrative infrastructure contracts believed to be worth £385m. The deal, which would have seen Greek utility company EYDAP and Swiss financiers Aras Capital provide sewage and water facilities to two of the central Asian nation's cities, eventually fell through after Kazakh police opened fire on striking oil workers in 2011.
Andrew is understood to have been in line to make a 1% commission on the deal – around £3.83m – after he allegedly used his status to put the two firms in touch with Kenges Rakishev, an oligarch who wields considerable influence in the region.
The Daily Mail further claims that the emails in its possession show Rakishev assisted Prince Andrew out with a property deal in 2007, when Kazakhstan President Nazarbayev's son-in-law Timur Kulibayev, bought the duke's former Berkshire home for £3m more than it had been on sale for.
The Daily Mail also claims that Andrew is friendly with Nazarbayev, who was re-elected with 98% of the vote in the country's 2015, and that the pair have been on goose hunting trips.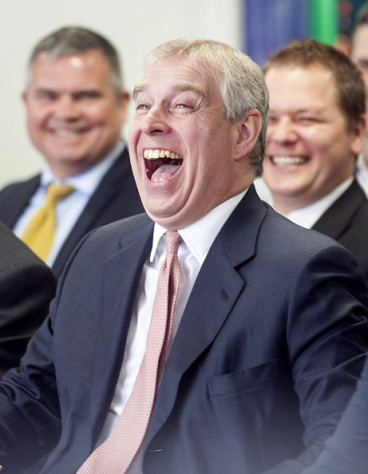 When the Mail initially approached the duke's spokesman, David Pogson he "initially denied" that his boss had done any work on behalf of the two European firms. However, the newspaper then showed him "a copy of an email which Andrew had personally sent to Rakishev on behalf of both EDYAP and Aras on April 14, 2011".
The newspaper added: "The palace suggested our email was a forgery but then tried to stop its publication on privacy grounds."
Prince Andrew was appointed as a special representative for international trade and investment in October 2001, a role in which he was meant to promote British business interests. He was dogged, however, with suggestions that he was using the position to make friendships with corrupt regimes. He stepped down from the position in July 2011 following persistent criticism over these and other relationships, including one with the convicted sex offender Jeffrey Epstein.
Graham Smith of Republic, a pressure group which campaigns for the end of the monarchy, called for an inquiry. He added: "On the face of it this appears to represent a clear abuse of Andrew's position as trade envoy."